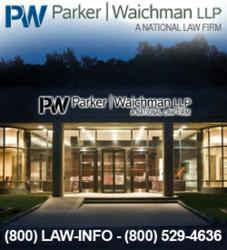 New York, NY (PRWEB) September 01, 2012
Parker Waichman LLP, a national law firm dedicated to protecting the rights of victims injured by defective medical devices, has filed a lawsuit alleging that the Gynecare TVT System caused significant and permanent damage in an Alabama woman. The suit was filed on July 12th in the U.S. District Court for the Southern District of West Virginia, Charleston Division (Case No. 2:12-cv-03123). There, it is one of many cases that have been filed into the multidistrict litigation as part of the In Re: Ethicon, Inc. Pelvic Repair System Products Liability Litigation (MDL No. 2327). Ethicon, Inc., Ethicon Women's Health and Urology, Gynecare and Johnson & Johnson have been named as Defendants.
According to the Complaint, the Plaintiff was implanted with the Gynecare TVT System in August 2008. Allegedly, the implanted mesh is defective because the material used is not inert, meaning that it can interact with the tissues of the body. The suit claims that this flaw can lead to serious complications, and exposes women to a risk of erosion, where the mesh moves out of place and can migrate through tissue and organs. When this occurs, patients have to undergo repeated treatment in order to remove the mesh, which may be deeply embedded within the body.
The lawsuit alleges that the implanted transvaginal mesh creates an unreasonable risk of vaginal erosion, infection, extrusion, perforation, chronic pain and/or abscess. The suit also claims that the Plaintiff would not have suffered injuries if the Defendants had adequately warned consumers about the dangers of using the mesh. Allegedly, the device caused the Plaintiff to suffer significant mental and physical pain and suffering, permanent injury, permanent and substantial physical deformity and the loss of her bodily organ system.
Transvaginal mesh implants are approved to treat pelvic organ prolapse (POP) and stress urinary incontinence (SUI). According to the Complaint, they were approved through a process known as 510(k), which does not mandate any clinical testing for safety or efficacy so long as the device is deemed similar enough to a previously approved product.
Last summer, the U.S. Food and Drug Administration (FDA) warned that, contrary to previous notions, complications associated with transvaginal mesh are "not rare." The agency went on to say that there is no clear evidence that transvaginal mesh has any benefits over non-mesh methods for treating POP, and that most cases can be treated successfully without the use of mesh. In January, the FDA asked Johnson & Johnson and 32 other manufacturers to conduct 3-year post market safety studies on transvaginal mesh.
In June, Johnson & Johnson said they would stop selling four types of transvaginal mesh, including the TVT Secur, Prolift, Prolift + M, and Prosima.
Parker Waichman LLP continues to offer free lawsuit consultations to victims of transvaginal mesh injuries. If you or a loved one experienced complications following POP and SUI surgery with transvaginal mesh, please visit the firm's transvaginal mesh injury page at yourlawyer.com. Free case evaluations are also available by calling 1 800 LAW INFO (1-800-529-4636).
Contact: Parker Waichman LLP
Gary Falkowitz, Managing Attorney
(800) LAW-INFO
(800) 529-4636
http://www.yourlawyer.com