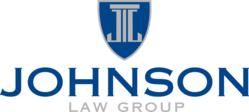 ...we very aggressively defend our clients' rights and tenaciously fight for what they deserve.
Houston, Texas (PRWEB) November 29, 2011
As part of its ongoing mesothelioma cancer awareness campaign, prominent mesothelioma law firm Johnson Law Group covers an essentially important topic that all victims and caregivers must be aware of: the stages of a mesothelioma cancer lawsuit.
"Regardless of what people see on TV or read about in gripping works of fiction, nobody wants to go to fight our a legal matter in court," advised Nick Johnson, experienced mesothelioma attorney and Principal of Johnson Law Group. "However, there are situations where defendants simply refuse to accept accountability and responsibility for their illegal actions. When that happens, we very aggressively defend our clients' rights and tenaciously fight for what they deserve."
Johnson Law Group notes that a mesothelioma cancer lawsuit typically progresses in three stages:

Intake and Claim Evaluation. This is a critical fact-finding stage where clients work with experienced mesothelioma attorneys and other senior law firm staff to gather and organize all information pertaining to their claim, including details about their illness illness, a review of medical records, issues pertaining to work history, and possible or probable ways in which asbestos exposure occurred. The information is then evaluated and assessed to ensure that a lawsuit is the appropriate direction in which to head. If so, then a detailed petition is filed that identifies the defendants, their alleged wrongful actions, and the legal claim that is being made (e.g. negligence, strict liability, conspiracy, gross negligence, and so on).
Pre-trial Discovery. After the lawsuit is filed, counsel for both the plaintiff and the defendant (respectively) exchange documents and send requests for information. This discovery process is designed to uncover facts that help both sides prepare for trial, and to evaluate the possibility of settling the matter. The pre-trial discovery stage is also where both sides conduct "interrogatories" and "depositions," in which designated individuals provide answers to questions under oath (either written, the case of interrogatories, or verbal, in the case of depositions). Mesothelioma cancer victims can rest easy knowing that their seasoned mesothelioma attorney will be right by their side every step of the way.
Trial. The third and most well-known stage is the trial. Sometimes, defendants wait until a trial date approaches before their shift their negotiating into "high gear," and start offering making sensible and appropriate settlement offers. As with the firs two stages, mesothelioma cancer victims can rely on the expertise of their attorney to evaluate any settlement offers and render an objective opinion on whether it's wise to accept or proceed to trial. Ultimately, if the matter goes to trial, a jury will hear testimony, gauge the credibility of witnesses, and assess evidence before rendering a verdict.
"For mesothelioma cancer victims and their caregivers, the scariest part about a mesothelioma cancer lawsuit is that it's a brand new and different experience," added Nick Johnson. "And that's why we invest the time to educate our clients and their caregivers on how the process works, and what they can expect every step of the way. We're both our clients' sword and shield throughout the entire process, and help turn a scary and anxious journey into one that can be approached calmly and with confidence."
Mesothelioma cancer victims and their caregivers who have questions about mesothelioma cancer lawsuits, or have other concerns related to their legal right to receive fair and appropriate financial compensation from employers or other wrongdoers, can contact Johnson Law Group's specialized Mesothelioma Attorneys at 1-888-311-5522.
###