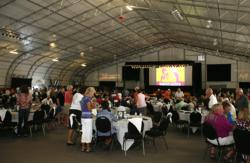 The Mesquite Amateur provides the ideal environment.
Mesquite, NV (PRWEB) February 24, 2012
Registrations are now being accepted for the tenth annual Mesquite Amateur golf tournament, which returns for its tenth year May 28-June 1 at seven Southern Nevada courses.
Early sign-up fees of $500 are now being accepted until March 31. The fee will increase to $550 April 1.
The prestigious tournament will be played at the CasaBlanca; Palms; Falcon Ridge; Oasis Palmer & Canyons; Conestoga in Mesquite; and Coyote Springs southwest of Mesquite. The tournament consists of a five-day, 54-hole net, stroke play tournament in which participants compete against a field of players with a similar age and handicap.
The top four participants from each flight will compete in the 18-hole championship round at the CasaBlanca Golf Club under USGA rules.
Expected to attract more than 600 competitors, the 2012 Mesquite Amateur celebrating its tenth anniversary will include nightly dinner parties in the CasaBlanca Event Center. Each evening will feature video of the day's activities along with specially-prepared dinners that match themes of the evening.
To salute the ten year anniversary, each dinner party will celebrate previous Mesquite Amateur events with old photos and surprise guests from past tournaments.
Another popular evening gathering Cigars Under the Stars will be back May 30 for the fourth year at the CasaBlanca Resort pool. The 2011 gathering was the biggest ever, and Cigar VIP Rich Cottle of Altadus USA predicts that this year's event will be even bigger.
"We love to promote the cigar lifestyle and the Mesquite Amateur provides the ideal environment," said Cottle, who journeys to Mesquite each year from his office in Phoenix. "This is a very relaxing evening that people never forget."
Jeff Miller, a 56-year old podiatrist from St. Louis, Mo, won the overall Mesquite Amateur Championship in 2011 while Dana Boyette of Nashville, Tenn., took the runner up.
Art Hickman of Long Pond, Calif., had a gross 75 to take the low gross for the championship round.
Last year's tournament drew 552 golfers from several states, Canada and the Netherlands competing in 17 flights.
Further information can be found by calling Mesquite Gaming Sporting Event Manager Christian Adderson at 888-711-4653, ext. 51; or by visiting http://www.mesquiteamateur.com.
The Mesquite Amateur is sponsored by Golf Mesquite Nevada along with the Mesquite Resort Association. Further information can be found at http://www.mesquiteamateur.com.