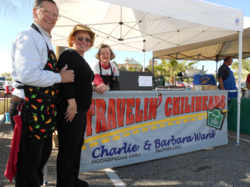 This is a fabulous location with fabulous weather
Mesquite, Nev. (PRWEB) November 30, 2011
With an estimated 30 competitors from Nevada, California, Illinois, Idaho, Arizona, Colorado and Utah competing in the High Desert Robinson Regional & Mojave Desert Regional on the grounds of the CasaBlanca Resort, there was no shortage of color and aroma.
Susie Baumberger, a retired divorce attorney who eventually became a juvenile court referee (like a judge) before retiring from the legal profession, has stayed busy with the chili cook off world. She has literally gone from judging from the bench to judging chili.
And judging by what took place during the competition Nov. 25-26, everyone is happy with the final result. Competing Chili Heads along with the crowds will not forget the days spent in ideal weather conditions on the grounds of the CasaBlanca.
"I think everyone is very happy with the cook off," said the energetic Baumberger, who resides in Lancaster, Calif., when not following the chili cook off circuit. I'm sure the casino is happy with the turnout."
For Baumberger, the challenges of running an event are certainly rewarding, but the fun of competing is her first love.
"I enjoy this, but I'd rather be cooking, to be honest," she said.
Personable Charlie Ward, about to turn 79 in December, had his first chili cook off more than 28 years ago.
"My neighbor in Newport Beach talked me into entering," laughed Ward, who has won national titles in both Mexico and Canada during his long run in the chili cook off business. "I finished second in my first cook off and was hooked.
Ward, who is now a grand master of the Chili Heads, travels with his wife, Barbara, the 2007 Salsa world champion. The pair sported an impressive setup with a canopy.
Charlie won the salsa competition the first day while Barbara captured the title the final day in what may be a great example of a husband and wife team working closely together for the mutual benefit of both.
"This is a fabulous location with fabulous weather," Baumberger added. "The cooks love the levels of the humidity and elevation which are perfect conditions for cooking chili. Based on the chili that was turned in, the cooks took advantage of these conditions by producing some outstanding chilis."
The People's Choice element of the event sponsored by the Lancaster Rotary to support the global Children's Literacy Project generated a two-day total of $1,400. The winning cook, Charles Harber of Fresno, Calif., captured the People's Choice award both days to win nearly $700 and walked away with more money than any other cook.
Baumberger said the group anticipates a return of the chili cook offs in 2012 during the same weekend.
"We have already started putting next year's event together," she said. "Our cooks really enjoyed themselves and I think word will spread about how much fun everyone had here. This is a chili paradise in the desert and we love coming here.
"There is nothing about casinos that chili cooks don't love. They'll come back stronger than every next year."
Among the top competitors who headed to Mesquite were Arizona resident and International Chili Society blog writer Dick Swenberger, who came in second in the world in 2010 at Manchester, N.H. was there; and Littleton, Colorado's Kathy Plager – the 1995 Red World Champion (worth $25,000); along with Bakersfield, California's Jim Beatty, the 1986 world champion and the winningest cook in ICS history.
"This is event is about one of about 200 cookoffs that are held throughout the nation each year," said Swenberger, 73. "I have been cooking for 20 years and this is a good contest. This weekend considering that it's Thanksgiving weekend, there is a group of about 20 cooks that always get together. This is our chili family that gets together every year doing cookoffs. We will all travel during the day on Thanksgiving and meet on the afternoon to have dinner together.
"We then go out Friday and Saturday and cook against each other. We'll have dinner and drinks together the night after the cook off to tell lies as to why we haven't won. We will see each other within the next two or three weeks cooking again."
Bob Plager, of Littleton, Colo., was making his fourth trip to Mesquite.
"This was a very good event," said Plager, 54, retired from a swimming pool maintenance business in Dallas, Tex. "I keep coming back to Mesquite because on the backend I know the judging is being run honestly and fairly. I run 12 cookoffs a year in Colorado and other states and it's very important for me to know the people running the cookoff are doing it properly. From the chief judge and scorekeeper to the rest, this is very well run event."
Interestingly, Plager uses prunes in his chili.
"Prunes make the chili a little sweeter and gives the gravy a beautiful gloss," he said. "Presentation is part of the whole package. If it looks good, it should taste good. I'm the king of prunes."
Add those names Bakersfield's Maud Swick, the 1999 ICS World champion and you see that the inaugural double header was a homerun from the onset.
Swenberger's wife, Nancy, made the trek even though she's currently undergoing chemotherapy for cancer.
"She told me that she was happy to be here," Baumberger said. "To me, this is the best possible therapy no matter what a person is facing."
One member ICS staff – Donnie Gordon – who is the chief scorekeeper of the world and served as the head scorekeeper in last weekend's cookoff – has faced her own challenges.
"She had health issues about a year and a half ago," Baumberger explained. "She lost so much weight that she was a walking skeleton. She's back, looking great and bragging that she has put on pounds."
First-day winners in the High Desert Robinson Regional included Charlie Ward, Rosamond, Calif., first place Salsa; Skip Cooley, Reno, second place Salsa, Verde and Red; Jim Beatty, Bakersfield, Calif., first place Chili Verde; Charlie Blosfield, Southern California, third place Red Chili; Al Henry, Littleton, Colo., first place Red Chili.
Second-day winners included Cooley, second place in Salsa; Sonny Allen, Dayton, Nev., third place in Chili Verde; Dick Swenberger, second in Chili Verde; Jan Brown, Simi Valley, Calif., first place in Chili Verde.
Red Chili winners included Mark Haught, Pahrump, Nev.; Charlie Blosfield, Riverside, Calif., second place; Skip Cooley, third place.
Further information regarding future chili cookoffs can be found at http://www.chilicookoff.com; or http://www.mesquitechili.com; or by calling Michele Yegge Evans of Mesquite Gaming at 888-711-4653, ext. 14.
###