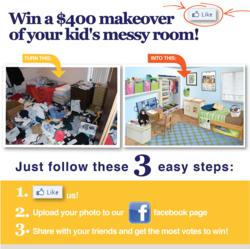 "OMG! I think some time we will find a person under all this stuff!"
San Francisco, CA (PRWEB) June 22, 2011
Has entering your kid's room suddenly turned into an Olympic event? Navigating the slopes of smelly socks that have piled up on the floor, leaping over the mountains of books and toys and dashing towards the exit as the stench of forgotten food overwhelms the senses. If so, then GUS can help!
There are just three simple steps to enter to win $400 worth of organizing items to help control kids' bedroom chaos.
Step 1: Simply "like" Great Useful Stuff on Facebook.
Step 2: Upload a snapshot of a kid's messy room to the GUS Facebook page.
Step 3: Refer a friend to enter the Messy Room Makeover Photo Contest! If they win then so do you! GUS is giving away TWO Messy Room Makeovers.
The Messy Room Makeover is designed to help control kid chaos. GUS has put together a superb selection of hampers, bins and boxes that will help hide the tsunami of shirts and tornado of toys that ripped through that once perfectly decorated nursery.
"We've all been there!" says Jeff Block CEO of GreatUsefulStuff.com. "On our hands and knees trying to figure out what piece goes to which toy. At a certain point, it becomes absurd. My breaking point came after a cleaning expedition of my daughter's room resulted in a HUGE garbage bag of broken toys destined for the landfill. So we came up with a collection of organizers that are specifically designed to manage kid clutter."
ABOUT GREATUSEFULSTUFF.COM:
Great Useful Stuff is a boutique online retailer based in San Francisco that designs and sells a highly edited selection of products that meet the simple criteria: If it's Great + it's Useful = then it's got to be GUS! From stylish gear to organize high-tech personal electronic gadgets to specialized totes, boxes and bags to conceal clutter, GUS has it all!
MEDIA INFORMATION:
GUS loves good press (bloggers included) and would like to extend a SPECIAL DISCOUNT CODE to outlets who broadcast, post or print about the contest.
Skype or phone interviews can be arranged. In addition, a company spokesperson is available for broadcast appearances in the San Francisco Bay Area to showcase GUS's unique selection of products that aim to organize!
# # #