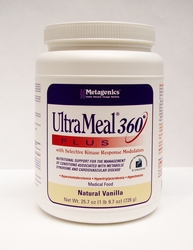 The research findings indicate that this combination of plant-based nutrients can be a powerful enhancement to lifestyle therapy
San Clemente, CA (Vocus) May 27, 2010
It affects one in three adults, yet most don't even realize it. Doctors are stymied about how to treat it. Billions of dollars are spent on it—unnecessarily.
"It" is metabolic syndrome – the simultaneous occurrence of any three or more of the following five conditions: high blood pressure, high blood sugar, abdominal obesity, low HDL ("good") cholesterol, or high triglycerides—that results from years of poor lifestyle choices, including unhealthy diets and lack of exercise. Having metabolic syndrome significantly increases your risk for cardiovascular disease, diabetes, and a host of other serious illnesses.
Now, preliminary results of research conducted by three major universities and sponsored by San Clemente, California-based life sciences company, Metagenics, Inc. , provides evidence of the power of condition-specific nutrients in addressing metabolic syndrome. All of the subjects underwent 12 weeks of lifestyle therapy including a low glycemic load Mediterranean-style diet and regular, moderate exercise. While all subjects appear to show improvement in metabolic syndrome and risk factors for heart disease, those who additionally consumed Metagenics' UltraMeal® PLUS 360 Medical Food twice a day appear to show even greater improvements, particularly in LDL-C, non-HDL-C, apolipoprotein B, and Apo B/A-1 ratio.
Medical foods are specially formulated to nutritionally manage a specific disease state. Among the key ingredients in UltraMeal PLUS 360 are soy protein, plant sterols, and proprietary extracts from hops and acacia. Soy protein has been shown to have cholesterol-lowering effects and may reduce the risk of heart disease. Plant sterols have been shown to promote healthy cholesterol levels, and also may help reduce the risk of heart disease. As for hops and acacia, "After testing hundreds of plant-based bioactives, we chose the extracts from hops and acacia for their powerful therapeutic effects as selective kinase response modulators (SKRMs) and for their excellent safety profiles," said Metagenics Chief Science Officer Jeffrey Bland, PhD, FACN, CNS.
"The research findings indicate that this combination of plant-based nutrients can be a powerful enhancement to lifestyle therapy," said Bland. "We're excited that one day this research could provide the basis for a new approach to managing metabolic syndrome and the many chronic illnesses related to it."
A New Chronic Illness Treatment Model
Surveys indicate that physicians feel ill-equipped to help their patients make significant lifestyle changes that will improve their health. Rather, their training and education prepare them to prescribe multiple drugs or even surgery. But winning the war on metabolic syndrome and its attendant chronic illnesses may require a new model of patient care.
"In the U.S. alone more than 50 million people have metabolic syndrome," said Bland. "But few have access to lifestyle therapy, even though most major public health organizations endorse it." To make the benefits of lifestyle therapy available to the millions of Americans who need it, Metagenics has developed a program called FirstLine Therapy®, which teaches healthcare providers and staff members how to educate and coach their patients through a program of healthy eating and regular, moderate exercise.
Already, more than 4,300 health care providers and lifestyle educators have been trained in the FirstLine Therapy system. According to Metagenics, many report improved patient outcomes as well as a greater degree of professional satisfaction from being able to transform their patients' health, often without the use of multiple prescription drugs or surgery.
"We still have a long way to go to meet our mission of reversing the effects of chronic illness on American families and on the economy," notes Bland. "But the science, the tools and the products to help healthcare providers and their patients transform their health are already here."
About Metagenics, Inc.
Metagenics, Inc. (http://www.metagenics.com), headquartered in San Clemente, CA, is a global life sciences company focused on reversing chronic illness and improving health. Founded in 1983, the company serves tens of thousands of health care professionals and more than a million patients throughout the world and holds more than 40 propriety formula patents for use in nutraceuticals, medical foods, and pharmaceuticals. Today, Metagenics continues its leadership role by successfully merging nutritional genomics, functional medicine, and lifestyle medicine to develop solutions to society's most pressing health concerns.
For more information or to schedule an interview with Dr. Bland, please contact:
Josie Davison
Public Relations Specialist
Metagenics, Inc.
949-369-3406
# # #