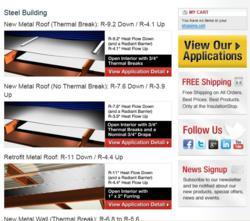 Indianapolis, Indiana (PRWEB) September 28, 2012
In the information provided, application based thermal ratings are listed for both the white and foil insulation . Application based diagrams as well as application specific installation instructions are provided. This information provides owners a solution to their insulation concerns using reflective insulation.
"Shopping insulation can be complicated. The prices range wildly as does the performance. Furthermore, there is not enough good information out there." stated Nick Semon, owner of Insulation Stop. "Our solution for folks needing steel and metal building insulation is to give them all the information they require to make a decision. Our customers know what they are using their buildings for and know how much they want to spend on insulation. We provide all the applications, pricing, and installation instructions coupled with best pricing, free shipping, and custom roll size availability. This allows them to make an informed decision regarding the application and use of our products. And, if they do decide to use reflective insulation, everything they need is right in one spot."
The applications provided for steel and metal buildings in the insulation solution program are for walls and ceilings in either a new construction application or in a remodeling, retro-fit application.
For more information on radiant barrier and reflective foil insulation, please visit InsulationStop.com.
Nick Semon is co-owner of Insulation Stop. They offer individual and bulk orders of U.S. made radiant barrier and reflective bubble foil insulation products for commercial and residential use. The company is committed to offering extensive knowledge on the use and application of its reflective insulation products.