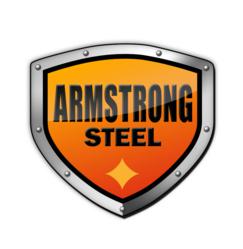 I would speak to any of your new customers about our experience with Armstrong Steel!

-Pastor Tom
Greenwood Village, CO (PRWEB) May 29, 2011
The Bridge Church located in Dunklin County contracted Armstrong Steel Buildings of Greenwood Village, Colorado, to supply them with a custom pre-engineered steel building. Armstrong Steel is sensitive to the pressures felt by church pastors and their respective church building committees, recognizing that each church community has a different vision for their facility. The custom pre-engineered steel building includes wet stamped blueprints, an engineered foundation design, upgraded baked on Kynar paint coatings, and a collateral load upgrade to 3lbs psf to support HVAC ductwork and drop ceiling. Their Armstrong Steel Building also includes a 40 x 32 portico as well as premium sculpted gutters and downspouts. Armstrong Steel Buildings gutter and downspout system promotes proper drainage to channel runoff away from the structure and prevent stagnant water in parking lots and areas adjacent to the church.
Construction is winding down and coming to a close for the custom Armstrong Steel building 158'W x 158'L x 16'H. Once complete, the community in Dunklin County will have a beautiful Armstrong church building sitting on 6 ½ acres to be utilized for fellowship, education and worship. This Armstrong Steel pre-engineered metal building will house a congregation of well over three hundred and during unforeseen weather conditions will serve as a shelter for those in need.
"You guys just keep coming through for us and we want to give you and Armstrong a public pat on the back," said Donnie Davidson of The Bridge.
About Armstrong Steel Buildings
Armstrong Steel has grown from a small steel building supply company to one of the largest pre-engineered metal building providers in the nation. Armstrong's insistence on low prices and excellent quality catapulted them into national prominence - it was those low prices that allowed them to expand into new markets in the years that followed.
One of the company's core strengths is its ability to self-perform a large portion of field work, providing optimal control over safety, cost, schedule and quality. Additionally, Armstrong's in-house project managers work closely with clients and field teams to create safe, cost effective building solutions with minimal environmental impact.
Armstrong's customer and contractor support team has built it's reputation by performing the highest quality work and providing the most innovative steel building solutions on the widest range of demanding and high profile projects.
Armstrong offers 23 energy efficient colors for metal buildings to reduce cooling costs and offers the only 40-year roof warranty in the industry. Because of such key features, Armstrong pre-engineered metal buildings can qualify under LEED Green Building guidelines. Every Armstrong Steel Building is backed by the Best Warranties in America.
If you would like more information about Armstrong Steel, please call them at 1-800-480-3045 or visit http://www.armstrongsteelbuildings.com.
###