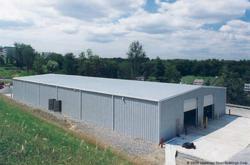 Once they met with us, toured the metal building factory and saw the quality and precision engineering, they were sold on Olympia Steel Buildings.
Pittsburgh, Pennsylvania (PRWEB) March 29, 2012
Universal Steel Buildings Corp. recently announced that their construction division will complete construction of a twelve-thousand three-hundred square foot metal warehouse building for Pennsylvania company, Metalico, Inc. Universal Steel Buildings construction division was selected to supply the Olympia Steel Buildings pre-engineered building, provide all concrete work and construct the building. The eighty-two by one hundred fifty foot pre-engineered steel building with a twenty-foot eave height will be used for a warehouse for non-ferrous scrap metal sales. The order was placed on December 12, 2011 and the building was delivered on January 7 2012. The new building, an attractive pearl gray with rustic red trim and 1:12 pitch screw-down Galvalume roof will be attached to an existing building at the company's Neville Island site. Construction is slated for completion by April 1, 2012
"They were very easy customers to work with," stated Victor Gutierrez III, Universal Steel Buildings sales manager, speaking about Metalico, Inc. "Once they met with us, toured the metal building factory and saw the quality and precision engineering, they were sold on Olympia Steel Buildings."
Metalico operates both ferrous and non-ferrous scrap metal recycling facilities in New York, Pennsylvania and Ohio, serving U.S. and Canadian markets. All forms of metal scrap are purchased from manufacturers, small scrap dealers, demolition contractors and peddlers. Metalico Pittsburgh is a full-service metals recycling company that plays a leading role in scrap metals recovery both in the U.S. and abroad. They emphasize that recycling of metals saves natural resources, energy, and consumption of scarce landfill space. Metalico scrap locations are positioned to offer easy access to peddlers and local residents, and encourage recycling of metal scrap, such as siding, window frames and doors, which typically end up in landfills. They are one of a handful of companies in the U.S. that own and operate the state-of-the-art Texas Shredder model 80/104 for the shredding of scrap metal. Easy access to the facility by barge from the Allegheny, Monongahela and Ohio Rivers allows Metalico to handle the largest demolition and recycling jobs. The POHC Railroad also services their Neville Island facilities.
The U.S. Environmental Protection Agency (EPA) has recognized the company's use of renewable wind energy and named Metalico as a Green Power Partner. Metalico continues to contribute to efforts to use renewable energy, reduce pollution and encourage recycling.
"Because Metalico prides itself on being a Green company, the decision to go with Olympia was easy," Gutierrez observes. "Pre-engineered steel buildings are inherently Green, and since the steel building factory itself is located just a few miles away from the construction site, it meets Green building requirements of sourcing materials locally as well."
About Olympia Steel Buildings
Olympia Steel Buildings® are supplied by Universal Steel Buildings Corp, an industry leader in pre-engineered steel buildings for over 40 years, and sole supplier of Olympia Steel Buildings® to commercial, industrial, agricultural, residential, government, military and civilian agencies. Olympia Steel Buildings come with their outstanding weather-resistant PBR roof, or you can opt for their patented Zeus-Shield® standing seam metal roofing system. GSA approved Olympia Steel Buildings set themselves apart by using better materials, better quality control, exceptional customer service and industry-leading warranties, including a 25-year rust through perforation warranty.
Olympia pre-engineered steel buildings are precision engineered and expertly erected to give you a "tight" building that reduces air infiltration into the building saving on HVAC costs. They offer 12 energy efficient colors for metal buildings to reduce cooling costs and come with a 40-year warranty against chipping, cracking, peeling or blistering. Because of such key features, Olympia pre-engineered steel buildings can qualify under LEED Green Building guidelines. For more information about Olympia Steel Buildings, visit their website http://www.OlympiaBuildings.com or call 888-449-7756 for more information.