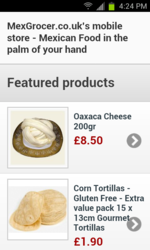 As market leader it's important to give our customers the best experience possible whether they are shopping via an iPhone, Tablet or traditional PC
St Albans, Hertfordshire (PRWEB) March 30, 2013
Native Mexican entrepeneur Katya Torres de la Rocha explains why 2013 is an exciting year for market leader MexGrocer.co.uk : "As market leader it's important to give our customers the best experience possible whether they are shopping via an iPhone, Tablet or traditional PC. It's our multi-channel approach that sets MexGrocer.co.uk apart from the smaller operators in this space".
MexGrocer.co.uk enhances and simplifies the mexican grocery shopping experience as the first Mexican food retailer to offer their goods via a smart phone. The newly launched mobile version of MexGrocer.co.uk works on multiple platforms and does not require a special app to be downloaded. Customers simply point their mobile browser to http://www.mexgrocer.co.uk and the site identifies the user as a mobile customer and displays a special site dedicated to shopping via a smartphone or tablet.
"All the same functionality that customers see on the main site is available on the mobile version. If we are having a special sale or a buy one get one free deal it's available on both platforms simultaneously" said Katya. "Our research indicates that 25% of our customers are buying using a mobile device and the rate of adoption is getting faster. We are always listening to our customers to find the next innovation, and this platform will help us improve customers' shopping experience".
A recent survey conducted by MexGrocer.co.uk, shows that more than 25 percent of its customers are smartphone users. Most of MexGrocer.co.uk's customers use Apple® iPhone®, BlackBerry® or Android® phones, creating a need to reach all platforms.
Simple shopping experience.
MexGrocer.co.uk's mobile platform greatly simplifies the shopping experience. Customers can easily scroll through many products & categories by simply tapping the catalog icon. Lightweight pages & images mean that even though a customer may be connected via a smartphone with limited bandwidth they are not having to wait for pages to load.
MexGrocer.co.uk are leading the way with mobile & social commerce.
MexGrocer.co.uk is one of the early brands to see the early potential of mobile & social commerce. It's new mobile site & social network integration are big successes and they are helping them expand their market reach.
MexGrocer.co.uk's success with mobile & social commerce is developing it's reputation as a trusted and innovative market leader in Ethnic food retail. This is supported by MexGrocer.co.uk being voted as one of the Top 50 best food sites in the UK by the Times newspaper..
According to research by website econsultancy.com currently only 20% of retailers have a mobile website, in fact out of the top 20 retailers in the UK only 12 had a mobile optimized site. By launching their new mobile site this puts hMexGrocer.co.uk ahead of many internet retailers, some of which are household names.
Social Networking Integration
MexGrocer.co.uk have taken their customer experience another step further on their boutique mexican ingredients store with their new socially integrated mobile website. Customers can now shop using their facebook®, twitter® or google+® accounts and all from the palm of their hands using their smartphone or tablet. "There's no need to remember usernames or passwords, if you are a member of a member of a major social network, we have you covered. You can log in and purchase using your facebook®, twitter® or google+® accounts" Says Katya Torres de la Rocha - CEO of MexGrocer.co.uk. "Our research tells us that our biggest number of customers are based in London, They are socially active and a regular iPhone® or iPAD® user and looking for Mexican food products or groceries at work or on the daily commute".
MexGrocer.co.uk have had massive success from integrating their social & retails sites. Customers can seamlessly go from seeing an instant offer on the MexGrocer.co.uk facebook page or twitter feed straight to the site, using their social log in and get the offer instantaneously. "We want to make the customer experience easy so that people are free to get on with their lives, shopping should be a joy, not a chore" says Katya.
Bright future for MexGrocer.co.uk
Voted one of the Top 50 Best food sites in the UK by the Times newspaper (Feb 2013) & launching a new mobile & socially connected boutique website point to a very bright future for MexGrocer.co.uk. "We continue to go from strength to strength with rapidly expanding product lines. We now have a line of Cuban food as well authentic Oaxacan cheese. Last year we introduced fresh tamales and we have new product lines arriving each week" says Katya. When asked about what the future holds for MexGrocer.co.uk] Katya Torres de la rocha replied "The answer is simple, wherever there is a need for Mexican food, grocery products or ingredients we will be there... At Chile festivals, in restaurants, on your smartphone or your computer. MexGrocer.co.uk is the number one brand for Mexican food products both here in the UK and across Europe".
About MexGrocer.co.uk
MexGrocer.co.uk started in the UK in 2006 with a simple principle : Deliver a broad range of autentic Mexican food, chillies & grocery products to Europe. Today, MexGrocer.co.uk serves more than 30,000 customers in London, UK and across Europe. MexGrocer.co.uk saves it's customers on average 20 percent on authentic Mexican food products over smaller operators by offering superior value, quality products & fast delivery. Products can be purchased at their store in St Albans, Online on a PC, Tablet or Smartphone or even over the phone. Visit MexGrocer.co.uk for more information.