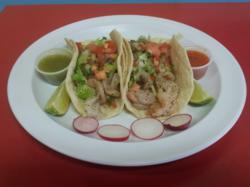 'Royal Taco is proud to feature four new entrees, including Caldo De Res (beef soup), Coctel De Camaron (Mexican shrimp cocktail), Shrimp Tacos, Chicken Tortilla Soup,' said Jesus Rodriguez of Royal Taco.
(PRWEB) March 08, 2013
Royal Taco is proud to announce that they feature four new entrees on the menu this month. Royal Taco has been serving up delicious, authentic Mexican food for the residents of San Jose for over 30 years. Their new menu items add more options to their already extensive list of classic Mexican favorites.
Diners can now order Caldo De Res, a hearty and comforting beef soup, Coctel De Camaron, Mexican shrimp cocktail with refreshing and spicy flavors, Shrimp Tacos, and Chicken Tortilla Soup. Each of these new dishes is sure to become fast favorites.
Royal Taco's list of Mexican food is affordably priced. Royal Taco also offers Mexican takeout services for those who do not want to dine at the restaurant.
Royal Taco can cater, too, bringing their Mexican flavor to corporate events, private functions, retreats, receptions, and more. Featuring the same delicious items on their menu, they can arrange all the items for take-out or for delivery.
For more information about Royal Taco's new menu items or questions about catering, please visit http://www.royaltaco.com or http://www.milpitasmexicanfood.com or call (408) 457-0860.
About the company:
Since 1980, Royal Taco in Milpitas has served authentic Mexican food to the San Jose area residents. Royal Taco features an extensive menu from burritos and tacos to custard flan and flautas, along with many traditional Mexican dishes. They are best known for their California Burrito, a Northern Californian specialty made from a secret family recipe. Royal Taco also provides catering services to the San Jose area. Royal Taco is located at 1469 Landess Avenue in Milpitas.