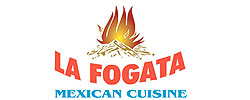 San Antonio, TX (PRWEB) April 12, 2013
La Fogata Mexican Cuisine, serving the best authentic Mexican food in San Antonio, has several exciting events planned at the restaurant for the month of April.
La Fogata will host its annual VIP party on April 11. This private event is by invitation only and is in honor of all regular customers that have been key to the success of La Fogata. During the party, La Fogata will be open normal hours as the party will not interfere with the daily operation.
La Fogata will also be featuring Tequila Avion, with three categories - Silver, Reposado or Anejo - throughout the month of April. Tequila Avion can be tried as a blood orange margarita, skinny margarita or fresca.
April marks the beginning of spring, which means the restaurant patio will be packed and the beautiful landscaping around the restaurant will display a variety of different flowers and bugambilias. La Fogata invites customers to enjoy the warmer weather with a special event on their outdoor party spaces, including their party patio. Relax and take in the spring weather with family and friends and let La Fogata do all the work.
The unofficial Fiesta Celebration is taking place at La Fogata beginning on April 18. Fiesta San Antonio is one of the nation's premier festivals. It is a celebration of San Antonio's rich and diverse cultures, as well as a commemoration of the Battle of the Alamo and the Battle of San Jacinto.
About the company:
La Fogata brings San Antonio and all surrounding areas the traditional flavors of Mexican cuisine with old world recipes handed down generation to generation. La Fogata is a great place to stop in for lunch or dinner, for catering, and even for throwing a party in one of their party rooms. Known for their award winning margaritas, the best salsa, their outdoor dining, and live Mariachi music, La Fogata is one unforgettable Mexican restaurant. They pride themselves on offering only the highest quality Mexican cuisine in a lively, upbeat atmosphere to give their patrons an exceptional dining experience time and time again. For more information visit their website at http://lafogatatx.com.