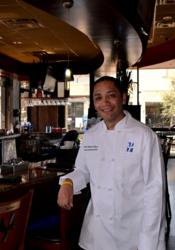 I am honored to be part of such a renowned Austin establishment and I look forward to sharing my culinary knowledge with Iron Cactus," said Jaime Chozet
Austin, Texas (PRWEB) March 07, 2013
Named by Bon Appétit magazine as one of Austin's Best Chefs, Jaime Chozet, has joined Iron Cactus Mexican Grill & Margarita Bar as its corporate executive chef. He will be responsible for overseeing Iron Cactus' menu development, culinary programs and kitchen operations at its five locations in Austin (three locations), San Antonio Riverwalk and downtown Dallas.
Chozet will be based out of the Iron Cactus at the Hill Country Galleria in Bee Cave, TX, where he will supervise all kitchen personnel and be actively involved in ensuring that the dishes served to guests are of the highest quality and standards. Known for having a meticulous eye in the kitchen, Chozet was formerly the chef and kitchen manager at popular Austin restaurants including Perla's, Lambert's and Clark's.
"Jaime brings years of culinary experience and a unique perspective to our kitchen operations," said Gary Manley, general partner at Iron Cactus. "We welcome him to the Iron Cactus team."
"I am honored to be part of such a renowned Austin establishment and I look forward to sharing my culinary knowledge with Iron Cactus," said Jaime Chozet.
Chozet was trained in classic French cooking and is an expert in cooking American, French, Italian, Interior Mexican and Spanish cuisines. He has worked with some of the country's renowned chefs and restaurateurs such as Larry McGuire and Thomas Moorman of McGuire Moorman Hospitality, Master Chef of France honoree Philippe Schmit of Philippe, and Chef Jeffrey Armstrong, named as one of the best hotel chefs in America by The James Beard Foundation.
About Iron Cactus Mexican Grill & Margarita Bar
Iron Cactus serves award-winning Mexican dishes and premium hand-crafted margaritas. The original restaurant opened on historic 6th Street in downtown Austin in 1996. Since then, Iron Cactus has grown to five locations including restaurants in Dallas and San Antonio, and two additional Austin locations. For the latest restaurant updates, "like" Iron Cactus on Facebook at https://facebook.com/ironcactusfan or follow on Twitter at https://twitter.com/iron_cactus. More information about Iron Cactus can be found at http://ironcactus.com.