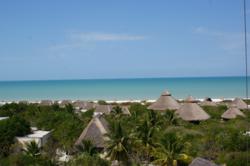 We strive to nurture the body, mind and soul of each and every one of our guests.
Celestun, Yucatan, Mexico (PRWEB) November 20, 2012
The editors of Fodor's, a leading name in travel guides for over 75 years, recently awarded Hotel Xixim, a unique Mayan style hotel in the Yucatan Peninsula offering yoga and wellness group retreats, the prestigious award of "2012 Fodor's Choice". The editors and experts of Fodor's have been selecting only the top fifteen percent of their listed properties and activities as "Fodor's Choice" award recipients since 1988. Every year, Fodor's writers experience, examine and evaluate thousands of hotels, restaurants and attractions in their travels across the globe. While every business included in a Fodor's guide is deemed worth a traveler's time, only those offering a truly remarkable experience are given the "Fodor's Choice" designation.
For more than 75 years Fodor's has presented travelers with the very top recommendations from hidden-away restaurants to can't-miss museums to unique lodging, to make sure they're making the most of their travels. The "2012 Fodor's Choice" recipients are the best of the best, providing a remarkable experience in their price range or category. As a "2012 Fodor's Choice" property, Hotel Xixim will receive special recognition in the next Fodor's guidebook to this area and on Fodor's website.
"We are extremely pleased to be selected by the renowned Fodor's travel guide for this important recognition in the worldwide hospitality industry," said Mrs. Verena Gerber, owner and managing director of Hotel Xixim. "From our careful preservation of our natural surroundings to our unique Mayan cuisine, bungalow suites and hospitality, we strive to nurture the body, mind and soul of each and every one of our guests."
About Hotel Xixim
Hotel Xixim, located one hour west of the city of Merida in the Celestun Biosphere Reserve on the western Yucatan Peninsula, welcomes individuals, couples, families and groups. The hotel offers 32 individual Mayan bungalow suites nestled in tropical vegetation on three miles of pristine white sand beaches. Opened in 1996 and expanded in 2010, this unique Mayan hotel provides special group rates for yoga and wellness group retreats, family reunions and events, weddings, eco-adventure and birding groups, Mayan culture and archeological tours, and business meetings. Earlier in 2012, Hotel Xixim received the Certificate of Excellence from TripAdvisor, awarded for consistently outstanding traveler reviews to only ten percent of accommodations listed on this review site. Visit http://www.hotelxixim.com or inquire about group rates at groups(at)hotelxixim(dot)com.
About Fodor's Travel
Fodor's Travel, a division of Random House, Inc., is one of the world's leading providers of travel information. Covering over 7,500 worldwide destinations, Fodor's guidebooks and website, Fodors.com, have provided the most up-to-date, accurate information for travelers since 1936. Written by a vast team of global correspondents, Fodor's provides travelers with engagingly written, locally reported, and absolutely indispensable travel guidance. Visit http://www.Fodors.com.