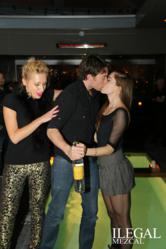 New York, NY (PRWEB) March 26, 2013
The stars of the SCOPE Art Festival in New York, were with out a doubt the artists, but the real star of SCOPE's One Fifty Event (VIP party for 150 Cultural Innovators) was Ilegal Mezcal, the handcrafted, artisanal liquor sponsor for the event.
Not only was the booze amazing, but it became evident that when you invite the Ilegal team to a party, they will elevate the level of fun and cause a bit of trouble (the good kind), all while making you a fabulous cocktail.
The bartenders are not hired agency people, serving you a product that you are sure to forget tomorrow; these are educated & passionate brand ambassadors who have apparently been working with the brand for years. More importantly they all happen to be artists, musicians or writers themselves, which is why there was such a clear synergetic connection between Ilegal and SCOPE.
You should definitely invite the Ilegal team to your next party but beware; they may kiss your girlfriend (or your soon to be ex-girlfriend). Check out the SCOPE Art Festival, the next time it roles into town and figure out how to get yourself an invite to their killer parties.
Follow SCOPE and Ilegal @SCOPEArtShow @ilegalmezcal