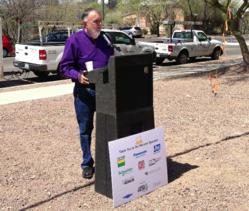 The biggest way that we can free ourselves from our reliance on fossil fuels is by increasing energy efficiency. Congressman Ron Barber
Prescott Valley, AZ (PRWEB) March 26, 2013
On March 25, 2013, MI Windows and Doors joined Green Builder Media at the groundbreaking event for VISION House® Tucson, a sustainable demonstration home being built in the Armory Park del Sol neighborhood. The project will focus on green design, advanced technologies, and the utilization of innovative, site-specific solutions to enhance the home's overall sustainability.
Renowned green building expert and Vision House Tucson builder, John Wesley Miller, was also at the event along with architect Hank Krzysik, Green Builder Media President Ron Jones and CEO Sara Gutterman, Congressman Ron Barber, and Mayor Jonathan Rothschild who celebrated the kick-off of this energy efficient project.
"Words have a lot of meaning and we talked about vision here today, and the very title, Vision House, says what we are trying to do," explained Congressman Barber. "The leadership that John has provided, not only in the home builder community, but in our state and in our country, has been truly remarkable. It's really not hard to understand why Green Builder Media would choose John to build this new demonstration home. Vision House is going to be doing something that we don't talk a lot about in this country, and that is, the biggest way that we can free ourselves from our reliance on fossil fuels is by increasing energy efficiency."
With an expected HERS rating of negative 17, the home is expected to produce all its own energy and will be able to sell excess energy produced back to the local utility. Vision House Tucson will be the first net-zero energy house using the City/County Net-Zero Energy Building Standard. The total cost of owning a net-zero home (including mortgage and utilities) is less than the cost of a owning a similarly priced home that only meets the minimum requirements of the building code. Net-zero homes lock in energy rates much lower than Tucson Electric Power (TEP) can provide, giving the homeowner a secure energy future, plus they help reduce greenhouse gas emissions and reduce TEP's need to purchase peak power.
MI Windows and Doors will be furnishing the home with MI EnergyCore windows with High Performance Low-E glass and patented AirCell™ frame technology that will enhance the energy savings provided by the structure. "MI Windows and Doors is proud to participate in another net-zero energy home. Our MI EnergyCore windows have proven themselves to be some of the most energy efficient windows made in America and are well-suited for net-zero environments," said Mike DeSoto, COO, of MI Windows and Doors.
MI EnergyCore windows were recently recognized as ENERGY STAR Most Efficient 2013 by the EPA. The ENERGY STAR Most Efficient 2013 designation recognizes the most efficient products among those that qualify for the ENERGY STAR and represent the leading edge in energy efficient products. For more information about MI EnergyCore windows, go to http://mienergycore.com.
The home is being built in the historic Armory del Sol neighborhood, which has offered attractive, energy efficient homes to Tucson families for more than a decade. The colorful community, comprised of more than ninety single-family homes, embodies sustainable development, embracing elements such as proper orientation, solar power generation, walking paths and parks, and proximity to schools, theaters, restaurants and other amenities of downtown Tucson. Inspired by the historic Armory Park, all the homes in Armory Park del Sol feature eye catching arches and large porches, replicating the look and feel of the nearby traditional Southwestern style homes. On average, homeowners at Armory Park del Sol pay only $300 per year to heat and cool their homes and use less than half the water of a standard Tucson home.
About John Wesley Miller Companies
The builder of the VISION House Tucson, acclaimed builder and solar pioneer John Wesley Miller, is a national leader in energy conservation and green building practices. He has received numerous industry honors and awards for energy conservation and building quality during his 50 year career. Miller built the Biosphere 2 at the University of Arizona, designed and constructed scores of sustainable homes and buildings, and consulted with organizations across the country to promote green homes and advanced technologies. For more information: http://www.johnwesleymillercompanies.com
About Green Builder Media
Green Builder® Media, LLC is the leading media company in North America focused on green building and sustainable living. With a comprehensive suite of print and digital media solutions, demonstration projects, case studies, online training, and live events, Green Builder Media assists building professionals in preparing themselves for the new green economy and helps homeowners understand how to live more sustainably. Contact Heather Wallace, heather(at)greenbuildermag(dot)com or see http://www.greenbuildermag.com/VISION-HOUSE for more information.