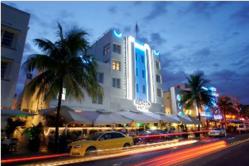 When guests add a Miami Tour to their vacation it enhances their overall experience at our hotel, says Christopher Regalado, Sales Manager
Miami Beach, FL (PRWEB) June 27, 2012
Whether guests are coming for a day or for a full week, Miami Tours can be a great value for their Miami Beach vacation. And if visitors stay at The Beacon South Beach Hotel, they can be sure to be in safe hands all the time. Visitors to the Beacon Hotel can also save with their: "Stay Longer, Save More" campaign
Visit the City of Miami Beach, South Beach Art Deco District, Financial District, Vizcaya Palace, Coconut Grove, Coral Gables, The Biltmore Hotel, Little Havana and Bayside Market Place or enjoy an unforgettable cruise that will take you to Biscayne Bay and the Venetian Island during this summer.
"When guests add a Miami Tour to their vacation it enhances their overall experience at our hotel", says Christopher Regalado, Sales Manager
When guests stay at the Beacon South Beach Hotel, they get miles of sun, sand and sea and everything in between. Enjoy luxury accommodations with chic modern deco, gourmet dining, deluxe spa amenities and personalized concierge services. Visitors can access miles of pristine beach to the east and trendy shopping and nightlife to the west.
Now visits to South Beach can become even more exciting as travelers can save more when they stay at the Beacon Hotel. With travel dates May through November 2012, the hotel is offering special prices for longer stays. Stay for 2 or more nights and get attractive discounts at the Beacon Hotel.
Visitors can go to the Southern Most Point of the USA and the lighthouse of Key West; experience 100% nature resources in the Everglades or interact with a huge variety of colorful birds at Jungle Island Miami. Guests can have fun watching the shows with Flipper, Salty the Sea Lion, Lolita the Killer Whale, manatees, sharks and tropical aquariums at the Miami Seaquarium or learn about the world's wildlife, its habitat and discover ways to preserve these environments in the Miami Zoo.
Planning a visit to the Everglades? Contrary to what many would expect, the Everglades is not a huge swamp populated by large snakes or alligators, it is instead a masterpiece created by nature; a mysterious forest full of many forms of wildlife and birds in their natural habitat. Visitors should plan an Everglades tour when they are here in South Beach Miami.
Take one of the Miami City Tours and visit the gorgeous mansions, the "heart" of South beach; where tourists can appreciate the Art Deco District, Coconut Grove, the beautiful streets of Coral Gables, with a stop at the famous Biltmore Hotel; The Little Havana and its Calle Ocho (Eight St), Downtown and the Financial District.
Tourists can also visit the Bayside Market Place; a unique Mall with plenty of exclusive shops, restaurants, bars, and a huge variety of outdoors entertainment in a relaxing atmosphere, this beautiful place is guaranteed to be an unforgettable time for the entire family.
About the Beacon South Beach Hotel
Ranked #25 among all Miami Beach Hotels on TripAdvisor, Beacon Hotel South Beach is a very popular, luxury art deco hotel at the shores of Miami's sexiest beach, South Beach. With infinite views of the Atlantic and historical sherbet-colored Art Deco architecture, Beacon Hotel forms a perfect summer beach destination and a paradise for all Miami Beach lovers.
For more information, visit: http://www.beaconsouthbeach.com
###