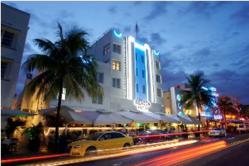 "We're delighted to welcome tennis fans from across the country to our upscale boutique South Beach hotel, so they can see why thousands of people feel that there's simply no better place to stay than with us," says Chris Regalado, Revenue Manager
(PRWEB) March 14, 2013
Tennis lovers who plan on heading to Miami to take in all of the world-class cross court action during the 2013 Sony Open Tennis tournament on March 18-31, are invited to stay at nearby South Beach's Beacon Hotel and save big.
Guests who stay for at least two nights and become a fan of the upscale and stylish boutique hotel on its Facebook page at https://www.facebook.com/beaconsouthbeach will enjoy a 15% discount, plus two welcome mojitos. Or, guests who plan on enjoying the tournament from wire to wire will save 25% on their long-term stay of at least five nights.
The Beacon Hotel is located just minutes from Tennis Center at Crandon Park, which has been home to the Sony Open Tennis tournament since 1987. Guests will enjoy staying at one of the area's most popular boutique hotels, which blends old world charm with a stylish art deco flair that sets it apart from the ordinary. They'll also love being directly across from the Atlantic, and steps away from all that dynamic Miami South Beach has to offer: restaurants, clubs, shopping, adventures and more. Plus, guests who plan on taking in a Miami Cruise can check out the Beacon Hotel's pre and post-cruise package specials, which is the ideal way to relax and extend an unforgettable Miami vacation.
"The Sony Open Tennis tournament brings together some of the world's top tennis players from both the men's and women's draws, and the talent just keeps getting better and bigger each year," commented Chris Regalado, Beacon Hotel's Revenue Manager. "We're delighted to welcome tennis fans from across the country and around the world to our upscale boutique South Beach hotel, so they can see why thousands of people feel that there's simply no better place to stay than with us. We offer luxury amenities, superb dining and extraordinary service, all in an ideal location that's close to the tennis action, and mere steps away from the Atlantic and the heart of legendary South Beach!"
For more information or media inquiries, contact Christopher Regalado, Revenue
Manager, at chris(at)beaconsouthbeach(dot)com or 305.674.8200.
About the Beacon Hotel
Renowned among chic and stylish Miami Beach hotels, and located in the heart of South Beach, the Beacon Hotel is a Boutique Art Deco Hotel just steps away from all of the best entertainment that South Beach has to offer: Sun, Sand and Sea. With the clear blue waters of the Atlantic directly across its front doors, the Beacon Hotel offers the perfect ambiance for a breathtaking beach vacation, featuring world-class amenities, an exquisite restaurant and tantalizing nightlife. Guests enjoy an extraordinary gastronomic experience with live music entertainment that will elevate their spirits with the melodies that fill the air. With an array of beach side water sports, state-of-the-art fitness center and highly advanced business center, Beacon Hotel is a full-service boutique South Beach Hotel.
Learn more at http://www.mybeaconhotel.com.
###