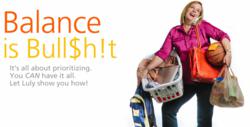 "Luly B. is a vibrant speaker. Her topics are energetic and leave the audience with great knowledge that they can take and put into personal and/or business use." - Teana McDonald, President of NAWBO
Miami, Florida (PRWEB) March 26, 2013
Within just 48 hours of releasing her book on Amazon, Luly B. was ranking within the top 10 business books on Amazon.com. "Balance is Bull$hit" has resonated with mom entrepreneurs and working moms who have struggled to find that elusive, perfect balance between their professional and personal obligations.
With straight-shooting stories from her own entrepreneurial journey, Lourdes 'Luly B.' Balepogi delivers breakthrough, no-holds-barred advice on how to be an awesome mom, wife and business owner - while eliminating the guilt that comes from the myth that you can always be perfect at all three.
"Balance is Bull$h!t" takes you from Luly's days as an employee to the life-changing launch of her consulting business, Luly B., Inc. while exploring the rollercoaster of highs and lows in between.
Luly B. has inspired thousands of women through her very personal blog, inspirational book, and even more powerful speaking engagements. She is quickly becoming one of America's most in demand women speakers in Miami and beyond.
"Luly B. is a vibrant speaker. Her topics are energetic and leave the audience with great knowledge that they can take and put into personal and/or business use. Luly provides what she promises and does it in a way that the audience completely gets her message. I would highly recommend Luly as a speaker for any organization, conference and or corporation she has an array of topics, talents and stories to share," said Teana McDonald of The InStyle Diva, Inc. and President of National Association of Women Business Owners, Broward.
"Great speakers are hard to come by and we are constantly searching for presenters that can connect with our audience and deliver a message that is relevant for our industry. Luly immediately had an understanding what our customers were looking for and kept them engaged throughout her presentations in an entertaining and very personal way. Luly is the perfect fit for us as she understands the challenges of women in business and entrepreneurs in general," said Nina Neuschuetz, Director Marketing for JK North America.
To learn how you can book Luly B for your next event, contact Miami Public Speakers at http://miamipublicspeakers.com
To learn more, get a free preview or to buy Luly B's book "Balance is Bull$shit" visit her Amazon page at: http://amzn.to/15PzXvv
About Luly B:
100 percent mom. 100 percent entrepreneur. It's Luly B!
For more than 15 years, Lourdes Balepogi – or as she's affectionately known, Luly – has consulted, coached and connected her way to the top of her profession. She is the president of Chispa Marketing, her Miami-based boutique marketing firm that has a who's who list of clients. She launched Luly B., Inc. in an effort to empower women entrepreneurs to have it all. She shares with others her real-life stories about being an entrepreneur, mom, and wife while maintaining a passion for family and work. She's an expert speaker, consultant and strategist with a contagious energy that will undoubtedly leave you inspired to act.