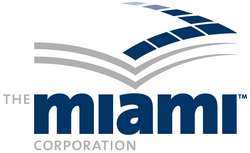 These shows serve as networking and educational tools. The demonstrations and seminars allow us to learn new practices, techniques and methods for our customers to utilize. This enables our sales team to better understand and serve their customer
Cincinnati, OH (Vocus) January 7, 2010
The Miami Corporation™ is looking to start the new year by participating in various trade shows that support the Awning & Marine Fabricators markets. As an exhibitor, Miami plans to build relationships, gain new business and continue to learn about the industry. "These shows serve as networking and educational tools. The demonstrations and seminars allow us to learn new practices, techniques and methods for our customers to utilize. This enables our sales team to better understand and serve their customer," claims Kerry Niehaus, Miami Corp's Director of Marketing.
The Marine Fabricators Association National Convention takes place January 10 - 12 at the Rosen Plaza Hotel in Orlando, Florida. The purpose of Marine Fabricators Association (MFA) Marine Fabricators Association is to provide opportunities for marine fabricators by offering resources to improve their business. This convention brings together a vast array of manufacturers, suppliers and distributors that offer products and services used in the fabrication industry. The convention consists of networking, demonstrations, tours, market day and entertainment.
The North East Canvas Products Association presents the 2010 Awning and Marine Canvas Products Show on January 28 - 30 at the MassMutual Center in Springfield, Massachusetts. NECPA is a trade association dedicated to increasing business for outdoor fabric-related companies and generating interest in and demand for awning awning and outdoor fabrics. The show provides educational tools, manufacturer and distributor exhibits along with fellowship and entertainment for all those associated with the awning industry.
The Midwest Fabric Products Association is holding their 2010 Convention and Market Day February 3 - 5 at the Hilton Garden Inn in Champaign, Illinois. The MFPA is a trade organization comprised of industrial fabric product manufacturers and suppliers servicing the awning, marine marine and canvas fabrication markets. The convention holds demonstrations, tours, and a market day along with hosting guest speakers and entertainment.
The Chesapeake Marine Canvas Fabricators Association will hold its annual convention February 19 - 21 at the Princess Royale Hotel in Ocean City, Maryland. The CMCFA is a trade association dedicated to promoting professionalism among canvas fabricators in the Mid-Atlantic region. The 3-day schedule consists of demonstrations, networking, round table discussions, a market day, food and fun. All those in attendance will not only see workmanship demonstrations but also seminars on business insurance, how to turn scraps to cash and photo contests.
Being proud members of organizations such as CMCFA, IFAI, MFA, MFPA, NECPA, PAMA, and ZONE4 Canvas Products, Miami strives to provide the highest level of product satisfaction and customer service in the industry. Along with superior customer service, The Miami Corporation The Miami Corporation has a state-of-the-art warehouse management system that utilizes the latest bar code and wireless technology allowing orders to be located, pulled and processed accurately and quickly. Furthermore, Miami's shipping department works continuously to offer the best shipping rates in the industry, along with rate shopping ensuring the fastest and cheapest delivery for truck shipments. Whether it's an automotive fabric or outdoor fabric, outdoor fabric all in-stock orders are shipped the same day they are placed out of three locations: Cincinnati, OH, Jacksonville, FL and Rochester, NY.
# # #