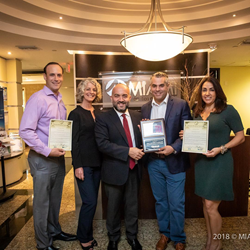 "We are honored to be strengthening our growing connecting with the Middle East," MIAMI Chairman of the Board George Jalil said.
MIAMI (PRWEB) November 20, 2018
The MIAMI Association of REALTORS® (MIAMI) recently signed an international collaboration agreement with FIABCI-Arabic Countries during FIABCI World President -Elect and FIABCI-Arabic Countries President Walid Moussa's visit to Miami, increasing MIAMI's international partners to 180 (the most of any U.S. Realtor association). The alliance will create business opportunities for MIAMI members, enhance Miami's global position and strengthen the local economy. FIABCI-Arabic Countries includes United Arab Emirates, Lebanon, Bahrein, Tunisia, Saudi Arabia, and Kuwait.
"We are honored to be strengthening our growing connecting with the Middle East," MIAMI Chairman of the Board George Jalil said. "More direct flights from Dubai, Doha and Istanbul have put Miami within reach for more Middle Eastern buyers. As America's youngest major city, Miami appeals to Middle East buyers because it offers state-of the art amenities, restaurants, cultural offerings and more."
2018 MIAMI Commercial President Brian Sharpe, 2018 MIAMI Residential President Jorge Guerra, 2019 MIAMI Residential President Ines Hegedus-Garcia, and 2019 MIAMI Commercial President Jennifer Wollmann met with FIABCI World President-Elect and President of FIABCI-Arabic Countries Walid Moussa on Monday, Nov. 12 at MIAMI Realtors headquarters to sign the historic agreement.
"The Middle East boasts a vibrant real estate sector, and there is a lot of potential for interaction and mutual enrichment across the region," Moussa said. "In turn, the Arab countries have a lot to gain by joining the worldwide real estate community, as well as a lot to offer."
Middle East: A Growing Market for South Florida Real Estate
Miami's rise as one of the world's top international markets, favorable exchange rates and a desire to diversify assets has led many sovereign wealth funds, particularly from Qatar and the United Arab Emirates, to invest in Miami real estate.
More direct flights from Miami to the Middle East region has played a role in the increase. Miami International Airport (MIA) now offers direct flights to Doha, Qatar (DOH) via Qatar Airways, Istanbul, Turkey (IST) via Turkish Airlines and Tel Aviv, Israel (TLV) via El Al Israel Airlines. Emirates offers a daily direct flight to Dubai (DXB).
Some examples of Middle Eastern investments in South Florida include: the $65 million sale of the Viceroy Miami hotel to Qatari hotel investment firm Al Rayyan Tourism Investment Company in June 2016 and the Abu Dhabi Investment Authority's acquisition of the Miami Beach EDITION hotel for $230 million in late 2015.
FIABCI-Arabic Countries Uniting Middle Eastern real estate professionals
FIABCI-Arabic Countries is a chapter of FIABCI, the international real estate federation. Founded in 1951 in Paris, FIABCI is a worldwide business networking organization for all professionals associated with the real estate industry. FIABCI-Arabic Countries is based in Beirut. For more information on the chapter, visit: https://fiabci.org/en/chapter/2
The Power of International Partnerships
MIAMI, the largest local Realtor association with 47,000 members, has been signing honorary reciprocal agreements with international real estate associations since 1996. MIAMI has bilateral agreements with real estate associations in more than 50 countries. The organizations are part of MIAMI's International Referral Network, which links South Florida properties with more than 100,000 real estate professionals around the world.
MIAMI's International Referral Network provides MIAMI members with a powerful competitive advantage, which benefits buyers, sellers and the communities they serve. Consumers should seek real estate professionals who are members of the MIAMI Association of REALTORS® because they have international expertise, professional network and marketing resources to better serve them.
For a full list of MIAMI International Partners, visit MiamiRealtors.com/internationalpartners
About the MIAMI Association of REALTORS®
The MIAMI Association of REALTORS® was chartered by the National Association of Realtors in 1920 and is celebrating 98 years of service to Realtors, the buying and selling public, and the communities in South Florida. Comprised of six organizations, the Residential Association, the Realtors Commercial Alliance, the Broward Council, the Jupiter Tequesta Hobe Sound (JTHS-MIAMI) Council, the Young Professionals Network (YPN) Council and the award-winning International Council, it represents 47,000 real estate professionals in all aspects of real estate sales, marketing, and brokerage. It is the largest local Realtor association in the U.S., and has official partnerships with 180 international organizations worldwide. MIAMI's official website is http://www.MiamiRealtors.com
###