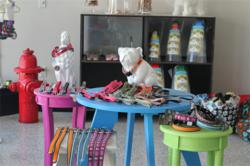 My dogs were so relaxed after coming home from their grooming, that never happens.
Coconut Grove, FL (PRWEB) March 30, 2013
Coconut Grove, a town known for its beautiful tree-lined streets, quaint homes, culture, history and dogs. It's no secret Grovites love their dogs more than they love quirky festivals. It almost seems impossible that a place like Dogtown didn't exist there before. Dogtown seeks to bring to the Grove a warm, friendly, neighborhood dog hotel, daycare, grooming and boutique worthy of Grovites fur-babies.
Dogtown's dog hotel isn't an everyday run-of-the-mill dog kennel. No cages or crates there, they have doggy suites. The suites have loving Grove names such as the Peacock, Barnacle, Mayfair, Grand and King Mango and vary from 9 square feet to 22 square feet. All suites come with ultra cozy designer dog beds. When hotel guests aren't napping they are enjoying use of the indoor play area and three outdoor walks per day. Clients can also add an hour dog park trip or a half hour "Grove Stroll" to any day.
The Dog Daycare program at Dogtown will rock any pups paws off. Open Monday through Friday, 7:30 am to 6:30 pm, Saturday 10:30 am to 6:30 pm and Sunday 11:30 am to 6:30 pm (with complimentary coffee for fur-parents) clients can drop off their pooch for a day of socialization, fun and friendship. Daycare guests also enjoy a midday outdoor walk because fur-parents work hard to train their dog and Dogtown wouldn't want to un-do that. They also have a really convenient way to pay, clients can buy a day for $30 or a 10, 30, or 60-day pass at discounted daily rates. Passes can be used as needed and never expire.
Dirty pooch? Dogtown can help with that too. They offer full grooming services for Teacup Yorkies through Rhodesian Ridgebacks and everything in-between. Best of all, dogs won't be cooped up in a cage before and after their groom. Grooming guests wait in one of the suites, lounging in luxury. "My dogs were so relaxed after coming home from their grooming, that never happens." says Ana, a client at Dogtown. They take dogs comfort very seriously over at Dogtown.
Walking through their boutique shop and you can see just how much thought and caring went into every detail of this place. They carry all sorts of dog accessories, treats and wellness products for our four legged companions. The boutique is filled with quality and unique items you won't find at the big pet retails chains. The treats on the shelves are all limited ingredient, natural and/or organic at great prices. They even offer baked goodies like doggy cannoli's, giant iced pretzels, whoppie pies all wheat, corn and preservative free. When nothing but the best will do for Fido's fur-parents, shop at Dogtown.
Owners Kris and Anai Fonte and their dogs Piper and Phoenix bring their years of experience in the dog industry to this wonderfully unique place right in the heart of the Grove. They opened Dogtown as an expansion of their dog walking and pet sitting company Grove Pet Service, the popular in-home pet care company, riding the wave of success to offer Miami fur-parents more choices when it comes to the overall care of their fur-babies.