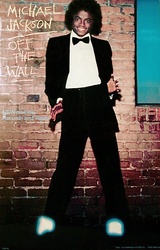 I explained the concept by pointing to the fashion type drawing and saying, I put him in a tuxedo. That says big deal!
Venice, Calif. (PRWEB) July 8, 2009
Famed designer Mike Salisbury, the man behind the imprint on a multitude of diverse products from HALO, the world's most popular video game, Rolling Stone, Surfer and Playboy magazines to O'Neill and Gotcha surfwear and Levi's 501 jeans (a brand Salisbury created), is also the genius behind Michael Jackson's iconic image in black pants, glittery socks, and loafers wearing a single white glove.
Despite having worked with a multitude of celebrities as both a designer and photographer, Salisbury had never worked with Michael Jackson but after seeing him in the movie, The Wiz, he contacted his agent. "I knew his agent and called him to say that Michael Jackson was going to be the biggest star ever and I would be anxious to work on something with him," said Salisbury. "Michael's agent called me in to his office and showed me an album cover mock up for his solo album and asked me what I thought. I told him that it looked like a cheap ad for the children's department at Macy's. 'I know,' he said. 'It sucks.' I thought Michael Jackson had the potential to be huge--the biggest, so I suggested he let me develop some ideas."
Salisbury returned to the agent's office with several variations of his concept, which only seemed to perplex the agent. "I explained that I was creating a metaphor. I told him that Michael was just a kid out from under his dad so I think the album cover should make a statement that his solo debut is as big as Sinatra coming on stage in Vegas."
According to Salisbury, at that time, young Michael was gangly and had an Afro. "I explained the concept by pointing to the fashion type drawing and saying, I put him in a tuxedo. That says big deal!"
"The agent hemmed and hawed and was just about to dismiss the whole nutty idea when a little, high-pitched voice softly squeaked, 'I like it,' and Michael stepped out from behind the drape covering the large office window. 'Let's just do it,' he said, and so we did," explained Salisbury.
Jackson liked everything about Salisbury's concept from the get-go and only requested one change. "'I want to wear white socks,' Michael whispered to me. They have to be über socks then…really glamorous," remembered Salisbury.
The photo shoot was taken at the Griffith Observatory at the Hollywood Planetarium. Salisbury's wife at the time found an Yves St. Laurent woman's tux in Beverly Hills that fit Michael. "I also told him to get loafers like Gene Kelly wore in An American in Paris. When we went to shoot the photo, I instructed him, to roll up his pant legs, put his fingers in his pockets and pull his pants up like Gene Kelly--to show off the socks. The loafers really made the white socks work. By the way, the socks were custom-made for Michael by famous Hollywood costume designer Bob Mackie.
"Michael drove up the hill to where we were at in the front of the building, the same location where they shot the knife fight in the movie, Rebel Without a Cause," Salisbury continued. "He was just 21 and had a new Rolls Royce. It was smashed up a bit and he was driving badly."
There was no place for Jackson to change and Salisbury and his team were under a time constraint because they had no permit to shoot there. "Fortunately for us, the women's restroom was open and like a real trouper he ran in there and put on the tux," Salisbury noted.
After reviewing his first shot for the album cover, Salisbury didn't think it showed the real Michael. "We were rushed and Michael was just not that into it," he said. "I thought he was a little too serious. We needed to shoot this differently. I mean, this album cover was just for him, not him and four other brothers. I suggested we re-shoot it and when we did, I directed him to be more animated. I suggested he smile and exaggerate the pulling up of his pants and get into it like he was dancing. He was a great sport and agreed to do the re-shoot. We did the second photo shoot against a wall and voilá! There was our cover for 'Off the Wall.'"
The white socks were so successful in drawing attention to Michael and his dance moves, there was a conversation about doing gloves, too. "I felt that would start looking literally Mickey Mouse (and of course Michael was a big Mickey Mouse fan). Between the agent and Michael and me, we got it down to one white glitzy glove. Another great move for attention," Salisbury concluded.
Salisbury created Michael Jackson's "Off the Wall" debut album cover art in 1979. Today, Salisbury is recognized worldwide as one of the leading talents in American brand design. People see his artwork every day in some of the world's most recognized corporate branding and product designs for companies such as Volkswagen, Suzuki, Honda, and Hasbro--the biggest toy company in the world.
His work can also be found everywhere in the motion picture industry. Salisbury helped create marketing campaigns for over 300 movies including Aliens, Jurassic Park, Romancing The Stone, Raiders of The Lost Ark and Moulin Rouge. The "exploding boxing gloves" that introduced Rocky IV to the world is an iconic Salisbury image that drew more recognition for the film than its title, ultimately becoming the visual symbol for the film and Salisbury's most copied graphic metaphor. George Lucas is a collector of Salisbury's work and recommended him to Francis Ford Coppola, who used Salisbury imagery creations in Apocalypse Now.
His music industry work includes creating album covers for George Harrison, James Taylor, Randy Newman, Rickie Lee Jones, Ry Cooder, Ike & Tina (for which he garnered an album design Grammy nomination), and many others. Mike additionally developed branding identities for top labels Blue Note Records, RCA, United Artists Records and PolyGram.
For more information or to schedule an interview with Mike Salisbury, please visit http://www.mikesalisbury.net or call 310-526-6081 or 815-469-5309.
# # #