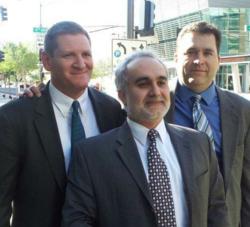 I am excited to be a part of this seminar, which focuses on emotional and psychological ways to connect with a jury.
Toledo, OH (PRWEB) October 09, 2012
Carrie and Randolph Bachrach lost their son in September 2008 when his car slammed into an overturned tractor-trailer in Ahwatukee, AZ. The lawyers representing the victim's parents, including truck accident litigator Michael J. Leizerman, fought for consortium claims.
Earlier this year, an Arizona jury agreed with Leizerman and returned a verdict to the Bachrachs of more than $13 million.
Leizerman will discuss the closing arguments that were so successful in connecting with that Arizona jury when he speaks at the Sidney T. Marable Advanced Trial Advocacy Conference Oct. 26 and 27 in Scottsdale, AZ. The conference - presented by the Arizona Association for Justice and the Arizona Trial Lawyers Association - will feature a host of nationally reputable litigators who will be on hand to discuss in-court communication strategies. The conference will take place at the Hilton Scottsdale Resort at 6333 N. Scottsdale Rd.
Leizerman, a member of the personal injury firm E.J. Leizerman & Associates, has devoted his career to protecting truck accidents victims, and is a staunch advocate of increasing trucking safety standards through government or industry regulations. He will speak to conference attendees about effective ways to address damages during closing arguments.
"I am excited to be a part of this seminar, which focuses on emotional and psychological ways to connect with a jury," said Leizerman, who speaks frequently to members of the legal community at events across the country.
Leizerman - whose website TruckAccidents.com follows news and trends concerning truck accident litigation and trucking safety - will include his thoughts on speaking to a jury in a persuasive manner during closing arguments, and will include an analytic look at his closing remarks during his representation of Carrie Bachrach.
Leizerman will be joined at the conference by litigation strategists Rodney Jew of California, John F. Romano of Florida, Lance M. Sears of Colorado, and John E. Osborne, Arthur E. Lloyd and Karen L. Lugosi of Arizona. For more information on the Advanced Trial Advocacy Conference, visit http://www.aztla.org.
CONTACT:
Michael J. Leizerman
Managing Partner
E.J. Leizerman & Associates
717 Madison Ave.
Toledo, OH 43624
419-243-1010