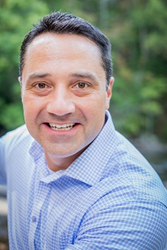 His insight and ability to create GTM strategies that find win-win solutions for our clients, channel partners and alliances will allow Transitions RBG to expand on our current programs and offerings. I am excited to have him joining the team" Cambria Smith, President – Transitions RBG
ATLANTA (PRWEB) November 28, 2018
Transitions RBG, a Medicare Coordination firm that focuses on aging workforce support and retirement planning announced today that veteran technology sales and alliances executive, Michael Smith, has joined the firm as Executive Vice President- Strategic Development and Partnerships. Michael will focus on continued national expansion through partnership channels as well as focusing on innovative solutions to support the evolving needs of aging workforces and retiree benefits.
Michael brings nearly 20 years of experience in enterprise consulting, technology, and organizational management to the team with a core focus on customer outcomes. He joins us from Amazon Web Services, where he most recently led the North America GSI community, expanding on a proven track record of strategic alliance management, broad partner ecosystem development, creative GTM design, and consultative selling of services through channels at Microsoft, PwC, IBM, and SAP.
"Michael is an experienced and passionate leader who understands the design of successful partnerships and how to create enhanced value for our customers. He has consistently driven success by listening to the voice of the customer and designing solutions that address their needs at the root. His insight and ability to create GTM strategies that find win-win solutions for our clients, channel partners and alliances will allow Transitions RBG to expand on our current programs and offerings. I am excited to have him joining the team" Cambria Smith, President – Transitions RBG
Michael Smith can be reached at:
msmith(at)transitionsrbg.com or 678-528-2668.
About Transitions RBG:
Transitions RBG is a unique and innovative Medicare Coordination Firm with focuses on inventive Aging Employee Support and Retiree planning solutions. Built to offer employer and retiree solutions for aging populations as well as active employees that care for loved ones. Our clients receive unprecedented customer service along with ongoing annual support. To learn more about the distinctive Transitions RBG offerings as well as retiree support please visit us at http://www.transitionsrbg.com.