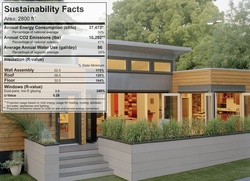 Nutrition labeling allows consumers to purchase food according to the quality of its nutritional content. We want homebuyers to be empowered with the same sort of information when it comes to making a decision about what house to live in
Oakland, CA (PRWEB) September 22, 2008
Michelle Kaufmann, award-winning green architect and sustainable living expert, today announced the release of the white paper, "Nutrition Labels for Houses." The white paper explores the need for a universal sustainability labeling standard for houses in the same vein as the federally mandated Nutrition Facts Label for foods. It also asserts that a universal labeling system would help grow the green building industry by making it easier for homebuyers to understand the environmental, health, and financial benefits of living in a green home.
The white paper is available for download at Michellekaufmann.com.
"Nutrition labeling allows consumers to purchase food according to the quality of its nutritional content. We want homebuyers to be empowered with the same sort of information when it comes to making a decision about what house to live in," said Michelle Kaufmann, founder and chairwoman of Michelle Kaufmann Companies. "We have to start holding the houses we live in to the same standards as the food we eat. Our habits concerning both are vital to our own wellbeing as well as the wellbeing of the environment."
Michelle Kaufmann, who has built more homes for clients than any other firm in the modern modular architecture world, focuses on making beautiful, thoughtful design accessible to more people by employing prefabricated modular building practices and prepackaging green solutions.
Topics covered in the white paper include:

Growing the green building industry through universal labeling of all homes--green and traditional
Exploration of the building industry's environmental impact, including comparison between traditional and green building practices
The financial benefits of buying green homes
Why we need a holistic, "apples to apples" labeling convention
Proposed methodology for creating a Sustainability Facts Label
Energy Consumption Study data, comparing a green home to a comparable traditional home
An example of a Sustainability Facts Label
"As soon as a sustainability labeling program is in place, even if it is at first instituted on a small scale before ultimately going national, we will be the first to commit to labeling our houses," concluded Michelle.
By reducing resource consumption, waste, costs, and building time by up to 50%-75% over conventional building methods, Michelle Kaufmann's prefabricated, modular building techniques deliver benefits to individual homebuyers as well as builders/developers, who are interested in building green multi-family and community developments.
Michelle Kaufmann offers six modular configurations--Glidehouse™, Sunset® BreezehouseTM, Sidebreeze™, mkLotusTM, mkLoftTM, and mkSolaire™--as well as custom homes and larger multi-family and community developments.
Michelle unveiled the first mkSolaire™ home as part of the original Museum of Science and Industry exhibit Smart Home: Green + Wired. The exhibit opened in Chicago May 8, 2008 and will run through January 4, 2009.
About Michelle Kaufmann Companies
Michelle Kaufmann (AIA, LEED® AP) is a tireless advocate and knowledgeable source for eco-conscious living. Michelle founded Michelle Kaufmann Companies with the mission to make it easier for people to build green and live a more sustainable lifestyle. To that end, Michelle Kaufmann leads a full service design/build architectural firm that uses off-site modular technology and prepackaged green solutions as the means to create beautiful, eco-friendly homes and multi-family developments. Founded in 2002 and headquartered in Oakland, CA, the company expanded to run its own factory delivering homes for clients on the West Coast. Michelle Kaufmann Companies also works with key factory partners to handle increasing volume and expanded territories.
Interested in connecting with people beyond traditional architecture, Michelle has launched a collection of lifestyle media properties, products, and events designed to inspire individuals, families, and communities to create and enjoy sustainable lifestyles.
###