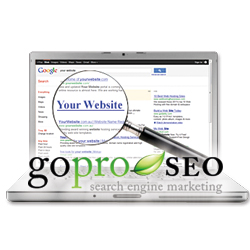 The higher their website ranks, the more visitors and customer calls they get each month.
Troy, MI (PRWEB) March 22, 2013
Michigan SEO Company GoProSEO.com is helping to stimulate local business growth in Michigan by getting local companies to the top of Google, Yahoo and Bing. The Troy, MI based SEO service provider offers a wide array of search engine optimization services such as organic SEO, social media marketing, SEO website design, link building, and more. In fact, GoPro SEO is so confident that they can get any Michigan website to the top of the major search engines that they are now offering a 90 Day SEO Ranking Guarantee.
With over 1000 satisfied customers since 2001, GoPro SEO has become an authority on designing and marketing websites that generate online traffic and return on investment.
Using extensive keyword traffic analysis and competitor research, GoPro SEO customizes an internet marketing plan that will outrank the competition. "Each of our clients have unique needs that can't be addressed with cookie-cutter solutions. We do in-depth analysis of what is needed to get them to the top of Google and the major search engines and keep them there. The higher their website ranks, the more visitors and customer calls they get each month," said GoPro SEO Senior Marketing Expert Nick Williams.
As a local Michigan SEO Company, GoPro SEO uses its years of experience designing and marketing websites to help other local Michigan companies obtain new customers. "Years ago, most people would pick up the Yellow Pages to find a local business for the products or services they were in need of. Nowadays people just 'google it' on their computer, tablet, or smart phone instead. And since over 90% of searchers never go past the first page results, if your website isn't on the first page, most likely they will be choosing one of your competitors," said Account Manager MJ Isabella.
Google uses a complex and private algorithm to determine which websites rank at the top of the search engine results whenever a user performs a search. Even though the exact algorithm is only known to Google, they do provide hints as to the types of characteristics they are looking for. GoPro SEO only uses search engine marketing methods and strategies that are approved by Google and the major search engines, which is how they achieve first page ranking results for their clients. It's also why GoPro SEO is confident enough to offer a 90 Day SEO Ranking Guarantee to new clients that guarantees their website will rank on the first page of results.
The Michigan SEO Services provider GoPro SEO also includes monthly reports and traffic analytics to summarize the website progress as it climbs the search engine rankings. The monthly report includes which keyword phrases are ranking in which search engines, and their current ranking position. In addition to the keyword phrase positions they also provide website traffic reports of monthly unique and returning visitors, time spent on the site, and the sources of the traffic.
The Michigan SEO Marketing Package pricing is based on the number of labor hours spent each month on a client's website. Even though the industry standard is over $55 per hour, GoPro SEO charges as low as $33 per hour with their highest pre-configured package. For more information, please visit http://www.goproseo.com/
About GoProSEO.com Search Engine Marketing:
GoPro SEO is headquartered in Troy, Michigan and provides multiple Michigan Search Engine Optimization Services including: organic SEO, SEO website design, social media marketing, link building, and more. The Michigan SEO Company only uses white-hat marketing strategies approved by Google, Yahoo, and Bing to achieve first page rankings. With over 1000 clients and over a decade of website design and marketing experience, GoPro SEO is a recognized leader in website marketing and SEO website design. Perform a search in Google for "Who can get my website to the top of Google?" and GoPro SEO is the first SEO company in the results out of almost 2 billion results.