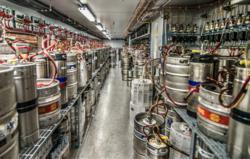 A concept of this size and scale would not have been possible without Micro Matic's full support and expertise throughout the design and installation process.
Brooksville, FL (PRWEB) March 25, 2013
Micro Matic draft beer dispensing equipment forms the heart of new epic beer hall Howells & Hood located in iconic Chicago Tribune Tower.
Officially opened to the public on St. Patrick's Day weekend, Howells & Hood is equipped with 114 different beers on tap pouring through 360 faucets spread across three bars, making it the venue with the most tap handles in the city of Chicago and likely the world.
Named after the Tribune Building's architects, John Howells and Raymond Hood, the restaurant's interior replicates the epic neo-Gothic design of the landmark building designed by its namesakes.
With a main dining room seating 250 guests and an additional banquet room holding 150 more, the 23,000 square foot venue's design includes copper-topped bars and travertine-tiled walls with quotes inscribed from everyone from Al Capone to Abraham Lincoln. To maintain the building's continuity, the stone tile found throughout the space was collected from the same quarry in Rome used 80 years ago during the tower's construction.
Each of the 114 brews available to complement the restaurant's globally-inspired menu pours from a gigantic glassed-in refrigerated cooler that can hold up to 670 kegs. This massive cooler is visible to patrons behind the bar, showing the faucets pouring beer from the kegs directly behind them. The effect is one part showmanship and one part an effort to relay the authentic experience of beer from keg that it truly is.
"It was a pleasure working with Micro Matic on our most ambitious draft project yet at Howells and Hood. 360 faucets pouring 114 different beers would be daunting for anyone, but Micro Matic was there with us every step of the way. A concept of this size and scale would not have been possible without Micro Matic's full support and expertise throughout the design and installation process," said Jason Akemann, principle owner of Howells and Hood.
Behind the scenes in the refrigerated cooler is one full mile of refrigerated Black Diamond trunk line, Micro Matic's patented beer line insulation that delivers beer at a constant temperature to the 360 faucets.
The majority of the insulated trunk housing consists of 10 beer lines with 5/16" I.D. and four glycol cooling lines with 3/8" I.D. There are eight Pro-Line power packs in total refrigerating the glycol which maintains the beer temperature from the keg to the faucet.
Micro Matic produced 32 custom Kool-Rite dispense modules to cool the beer at the faucet. All the hardware touching the beer is stainless steel to deliver the best draft flavor and experience to the customer.
Also included in the Howells and Hood installation was wine certified equipment to dispense 36 wines on tap. Micro Matic has been instrumental in the rising trend of wine on tap, providing the highest quality equipment and expertise for this new, more cost-effective, and environmentally friendly method of keg wine dispensing.
The monumental installation carried out by Chicago local and Micro Matic Certified Installer Stuever & Sons, Inc. took just over one month with six installers on-hand working 12-14 hours per day, seven days per week. All work installing the system was performed so as to preserve the integrity of this historic building.
The Micro Matic Certified Installer Network provides expert installation and support services for businesses across the nation.
About Micro Matic USA, Inc.
Micro Matic is the world's leading manufacturer and supplier of keg valves and dispensing equipment in over 120 countries. Serving the U.S. market from four fully stocked regional warehouses staffed with knowledgeable personnel, Micro Matic also operates the Dispense Institute where field-trained instructors conduct hands-on draft beer dispensing courses, as well as on-site workshops. In addition, the company website offers a wealth of dispensing information "white pages" along with interactive video presentations.
For more information about Micro Matic, visit http://www.micromatic.com, contact a Micro Matic sales representative by calling (866) 327-4159, or connect with us on Facebook and Twitter.