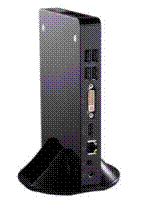 We believe this is world's smallest, most powerful and most economical Audio, Web and Video conferencing bridge in the industry
Dallas, Texas (PRWEB) July 26, 2012
XOP Networks, Inc., a developer of software based Value Added Service (VAS) platforms and Audio Conference Bridges announced availability of its SIP based Micro Digital Collaboration Bridge (DCB), a new Audio Conferencing platform that allows Small and Medium Businesses to economically bring their conferencing applications in-house.
The XOP Networks' Micro DCB conference bridge provides the feature rich, robust and widely deployed XOP Audio Conference Application on a Linux based, rugged, compact, wall mountable server. The micro DCB interfaces with an IP PBX as a number of SIP extensions or can be directly connected to a VoIP Carrier SIP trunk.
XOP Networks' Micro DCB supports Audio, Web and Desktop Video Conferencing applications. It is available in following two configurations:
8 x 8 x 8 - 8 Audio Conference Ports, 8 Web Conference Ports and 8 Video Conference Ports
16 x 8 x 8 -16 Audio Conference Ports, 8 Web Conference Ports and 8 Video Conference Ports
The Micro DCB supports multiple features tailored for the SMB market. Noteworthy items are:

No moving parts, solid state hard drive
Brand-able Web Portal
Self Install
On-line Training
Small and Medium businesses typically use managed audio and web conference services. As these businesses deploy IP PBXs in their networks, micro DCB gives them a cost effective alternative to managed services. By deploying their own in-house conference bridge, these businesses can have peace of mind as their conferences will be secure and have predictable monthly expense associated with them.
"We believe this is world's smallest, most powerful and most economical Audio, Web and Video conferencing bridge in the industry," said Sudhir Gupta, XOP Networks' CEO.
About XOP Networks
Headquartered in Dallas, Texas, XOP Networks was founded in 2002 and is backed by a seasoned management team. Deployed at multiple Cellular Operators, Fortune 100 companies, CLEC/IOC customers, Government organizations, DOD networks (Air Force, Army and Navy) XOP Networks' products allow customers to boost employee productivity, increase business efficiency and enhance emergency communications. Having both TDM and VoIP interfaces, XOP products allow customers to seamlessly transition their value added services from legacy circuit switched networks to VoIP based packet switched networks.
For more information about XOP Networks, visit its website at http://www.xopnetworks.com.