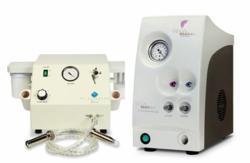 "I've had amazing results reducing the appearance of post-pregnancy stretch marks with microdermabrasion."

Luba Dziubas
Owner of Serenity Spa & Salon
Lenni, Pa. (PRWEB) April 04, 2013
DermaMed Solutions is pleased to announce their new aesthetics educational series "Multitasking Moneymaker: Five Innovative Ways to Use Microdermabrasion." Launching this spring, the seminar series will feature step-by-step protocols and the scientific rationale behind the treatments.
"There's no question that microdermabrasion equipment is a great way to treat acne, improve overall skin texture and stimulate skin cell regeneration," says Ginger Hodulik, MS, CNS, VP of Research and Development for DermaMed Solutions. "In addition to facial treatments, there are many other ideal uses for this versatile workhorse all over the body."
DermaMed's educational seminar will feature five "alternative" uses of microdermabrasion equipment that will alleviate common conditions and put money in the bank:
1. Battling "Backne"
Acne on the back, or "backne" is a common and embarrassing condition. "Microdermabrasion is ideal for acne on the back," says Luba Dziubas, Owner of Serenity Spa & Salon in Robbinsville, NJ. "The functionality of the machine makes a big difference. We use the MegaPeel from DermaMed Solutions, which allows you to choose from a variety of hand pieces and disposable tips to customize the release of crystals and vacuum according to the severity of the condition."
2. Smoothing Stretch Marks
"I've had amazing results reducing the appearance of post-pregnancy stretch marks with microdermabrasion," says Dziubas. Although microdermabrasion equipment can't completely eliminate stretch marks, it can induce collagen production and soften and smooth the skin. "When combined with the right nutrients to support skin renewal, the skin has the necessary building blocks for neo-collagen synthesis and smoother looking skin," says Hodulik.
3. Helping Hands
Hands are the first give-away to your "real" age, yet most of us treat our faces but neglect our hands. DermaMed's microdermabrasion anti-aging hand protocol helps to erase the signs of dehydration and UV damage so your hands will look as young as your face. Hydration, nutrition and UV protection strategies both internal and external are incorporated in a holistic protocol for youthful looking hands.
4. Softening Scars
There's no reason to live with ugly ACL or C-section scars. Microdermabrasion equipment helps break down the build-up of scar tissue and smooth it out. Dziubas had "phenomenal" results using microdermabrasion to soften scars. "You can literally buff out the scars out after a few treatments so the skin is flawless." The American Academy of Dermatology reports that patients seem to like microdermabrasion for treating scars, because there are no side effects, zero recovery time and the treatments are painless.
5. Combatting Calluses
Feet that suffer from chronic corns and calluses (hyperkeratosis) range from a cosmetic nuisance to a painful medical problem. "Podiatry spas will be a growing trend as standard pedicures do not stand up to the job," says Hodulik. "Microdermabrasion provides even and safe exfoliation of thick skin. DermaMed's clinical pedicure incorporates microdermabrasion and our Precision Peel® with resorcinol, glycolic acid and retinyl (vitamin A) enzyme. The one-two punch combats even the worst calluses."
The first seminar with take place May 20, 2013 10:00 AM to 2:00 PM at the SHERATON PARSIPPANY HOTEL. For more information, visit http://www.DermaMedSolutions.com.
About DermaMed Solutions
At DermaMed Solutions, we take a wholistic approach to skin care. Our medical and spa partners benefit from our leading-edge aesthetic technologies, results-oriented skin care and wellness solutions. Since 1998, DermaMed Solutions has provided thousands of spa and medical locations with quality aesthetic equipment manufactured in the USA, such as the MegaPeel®, known as the industry gold standard in microdermabrasion. Our skin care products and protocols, along with nutritional supplements and home care regimens, provide our clients with a multi-pronged approach to offer maximum results.
General Contact:
Cheryl Cox, Vice President of Sales
DermaMed Solutions LLC
610-324-4104
Media Contact:
Nancy Griffin, Principal
Contento Marketing Group
415-987-0012