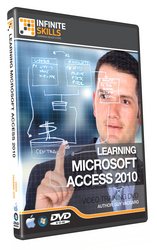 The goal of each training video is to keep it simple
(Vocus) November 20, 2010
Training company Infinite Skills has just released a new video-based course to help new users Microsoft Access 2010. Featuring 112 separate lessons, this video series divides the application into popular features, tasks and techniques and addresses each challenge one at a time. The video presentation style provides a combination of guided narration and real-time screencasts to help viewers follow featured examples on their own computers.
Microsoft Access 2010 Video Tutorials
"The goal of each training video is to keep it simple," said Mike Spaulding, president of Infinite Skills. "This doesn't mean that we avoid advanced subjects. It means taking a step by step approach that anyone can follow."
The Learning Microsoft Access 2010 Tutorial is narrated by Guy Vaccaro, a Microsoft Office specialist and experienced software trainer who emphasizes the productivity aspects of the application. While in some ways Microsoft Office Access is considered to be less robust than full-fledged high-end databases such as MySQL or MSSQL, the program still holds a prominent position among individual and small business users worldwide due to its simplified interface and strong integration with other programs in the Microsoft Office suite. The program also offers support for macros, plug-ins and VBA solutions to significantly expand what it can do, making it increasingly relevant across a number of industries.
The tutorials in the Infinite Skills training series begin with navigation and functionality tips. After establishing how the most basic aspects of the program works, Vaccaro also explains fundamental database concepts so that viewers can begin to plan and understand their own solutions. Next, he goes through the software's common tasks and commands. Viewer learn how to work with tables, including entering and editing records, adding lookup options and sorting data. Vacarro moves on to Queries, Forms, Reports, Actions, Normalization and more. By the conclusion of the lessons, viewers have been shown not only how to use and edit Access databases created by others but how to build their own solutions from start to finish. A sample database and practical working files also accompany the training allowing users to follow along with the lessons at their own pace.
Microsoft Access 2010 Video Tutorials
The Microsoft Access 2010 Tutorials can be purchased on a Windows and Mac-compatible DVD - ROM or ordered as an instant download through the Infinite Skills website. It retails for $99.95 USD and ships worldwide. A full list of lessons included can be found on the training course product page:
http://www.infiniteskills.com/training/learning_microsoft_access_2010.html
About Infinite Skills Inc
With a library of titles developed by in-house experts and sourced from the best teachers in the world, Infinite Skills is quickly becoming a definitive source for e-learning on the Web through superior customer service and educational innovation.
###