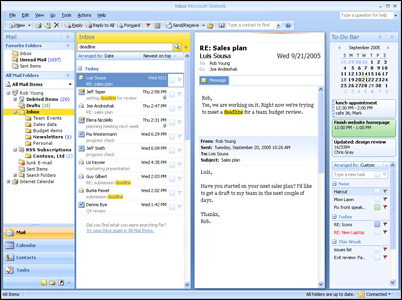 and customers have responded very positively to our providing them with the newest version. Helping our customers understand, stay current and apply new technology to their business challenges is just one of the benefits we provide.
Burlington, MA (PRWEB) January 18, 2007
123Together.com, the leading provider of Hosted Microsoft Exchange, SharePoint and CRM services is now offering a complimentary version of Microsoft Outlook 2007 to every user of the company's Exchange Hosting service. Outlook 2007 is the latest release in Microsoft's long line of award-winning e-mail, messaging and collaboration clients. This version includes many new features and improvements designed to further improve productivity.
Outlook is the most widely used e-mail software in the world with hundreds of millions of mailboxes in use. With Outlook 2007 and Hosted Microsoft Exchange from 123Together.com, the daily productivity of office workers everywhere can be significantly improved. Outlook 2007 has major enhancements over the previous version, Outlook 2003, ranging from deeper integration with the latest versions of Exchange Server, SharePoint and CRM (all of which are provided as hosted services by 123Together.com), as well as improvements in calendaring, collaboration and information management.
"Outlook 2007 is a powerful tool that allows people to improve their productivity, manage their information and organize their time," said Ravi Agarwal, chief executive officer of 123Together.com. "Microsoft has done a great job of integrating Outlook 2007 with Exchange Server, SharePoint as well as Dynamics CRM so that users can easily access the information that drives their business through a familiar and effective interface. Outlook 2007 brings powerful software options to the SMB marketplace, one that has traditionally been unable to obtain this level of integration and collaboration."
Some of the major features and enhancements included in Outlook 2007 include:
Advanced searching capabilities - The new Instant Search tool allows users to not only conduct keyword searches of their Outlook 2007 messages but also within e-mail attachments.
Centralized communication management - Users can now read and manage Really Simple Syndication (RSS) feeds and blogs right from within Outlook 2007. This allows users to organize and manage more of the information they use on a daily basis from one central location.
Mobile device integration - Outlook Mobile Service (OMS) provides the ability to send and receive text and picture messages between Outlook 2007 and any mobile phone. OMS also enables users to forward Outlook e-mail, contacts, appointments, and tasks to themselves or other people as text messages. This capability, along with 123Together.com's two-way wireless sync services for the BlackBerry, Good Messaging and Windows Mobile services, ensures that users will always have the most current information whenever or wherever they need it.
Less junk mail and improved phishing protection - To help protect users from divulging personal information to a threatening Web site, Outlook 2007 has an improved junk e-mail filter and has added new features that disable links and warn users about threatening content within an e-mail message. These issues are amplified in a corporate environment and the combination of the enhanced Outlook 2007 filters along with the free anti-virus and anti-spam services provided by 123Together.com's Hosted Exchange services help ensure comprehensive coverage and protection.
Integration with SharePoint 2007 - Users can connect and access SharePoint 2007 documents, calendars, contacts, tasks, and other information through Outlook 2007, giving them a central place to manage information. Because 123Together.com provides hosting for both Exchange and SharePoint, customers able to get the benefits of both services without performing backups, upgrades and all the other tasks required for creating a 24x7 environment for their users.
"The capabilities of Outlook 2007 are beyond what people have grown accustomed to," continued Agarwal, "and customers have responded very positively to our providing them with the newest version. Helping our customers understand, stay current and apply new technology to their business challenges is just one of the benefits we provide."
About 123Together.com
123Together.com, a Microsoft Gold Certified Partner, helps small & medium-sized businesses leverage the power of Microsoft Exchange Server. With over 9 years of hosting industry experience, 123Together.com is one of the largest providers of Microsoft Exchange Hosting today.
With up to a 100% uptime guarantee, 123Together.com is the leader in providing Mission Critical E-mail to companies such as banks, airlines, pharmaceuticals, and public companies - around the world all with flexible hosting options including shared and dedicated server hosting, full mobile availability for Blackberry, Treo, PocketPC, SmartPhone, and Windows Mobile handhelds, and the ability to resell the service completely white labeled.
123Together.com.com offers free Outlook 2007, 24x7 tech support, advanced SPAM filtering, Virus scanning, unlimited Public Folders, RPC over HTTP(S), VPN, Outlook Web Access (OWA), Outlook Mobile Access (OMA), web-based administration, daily backups, SharePoint, and continuous monitoring. 123Together.com also offers a 30-day trial.
For more information please contact:
Al Maguire
Marketing Manager
123Together.com
781-273-6245 x641
am @ 123Together.com
###