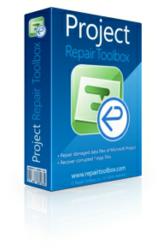 The software recovers data from damaged Project files and minimizes the downtime caused by data corruption incidents.
Sacramento, CA (PRWEB) March 26, 2013
Repair Toolbox, an established developer of an extensive line of data recovery and file repair tools, released the most efficient version of Project Repair Toolbox, a fast and convenient Microsoft Project repair tool intended for home and corporate users. Featuring a user-friendly interface with just the necessary number of control elements, the program can be used by anyone with basic computer literacy and no previous data recovery experience. The program uses a convenient interface to take the user from A to B and complete the recovery process within minimal time and with minimal effort. This Microsoft Project repair tool ( download it ) supports data recovery from damaged *.MPP files of versions 2000, 2002, 2003, 2007 and 2010, and restores their contents directly to Microsoft Project, which must be installed on the user's system at the time of recovery.
The software efficiently restores project plans, activities, resources and dependencies between them and enables users to preview recoverable data prior to proceeding to the final step of the recovery process. Offering best of class accuracy and speed of recovery, this Microsoft Project repair tool is a valuable asset for any organization running multiple concurrent projects with the help of MS Project.
"Having released so many recovery tools for other Microsoft products, we felt it would be a great idea to add Project to our portfolio, especially considering the seriousness of task done with its help and the potential threat to projects where the main MS Project file is suddenly damaged," explained Ivan Bobrov, Lead Developer at Repair Toolbox.