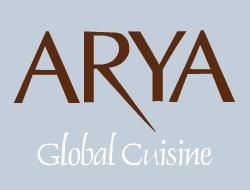 Join us at Arya to make your New Year celebration truly memorable.
Cupertino, CA (PRWEB) December 16, 2011
San Jose's premier Middle Eastern restaurant, Arya Global Cuisine, is inviting guests to celebrate New Year's Eve with its New Year's Eve package.
"Book and reserve your table for early dinner from 4 p.m. to 8 p.m. or our New Year's Eve Package from 8:30 p.m. for only $85 per person," said Fera Hashemi of Arya Restaurant. "Children are welcome at a special price."
Arya's New Year's Eve package consists of the traditional champagne toast, four-course dinner menu of sambosa, shish liek, seabass pistachio and dolce chocolate delight for dessert. Arya will be also featuring an international DJ for the night's music and dancing as well as a belly dancing performance.
"Join us at Arya to make your New Year celebration truly memorable. You will be entertained and pampered from the moment you arrive. As you stand with friends and family, glasses will be raised and a toast will be made to the New Year 2012 and to future success," Fera Hashemi added.
Arya Restaurant features fine, exotic Persian cuisine with Italian touches. Arya features seafood, steaks, chicken, kebabs, great salads and pastas cooked to order. A full bar with a fine selection of California and Italian wines is also available in addition to delicious cakes and desserts for every event from its Tiramisu to the Persian style Baklava and Pistachio ice cream.
For more information on Arya Restaurant, call 408-996-9606 or visit http://www.aryarestaurant.com. The restaurant is located at 19930 Stevens Creek Blvd., Cupertino, CA 95014.
About Arya Global Cuisine
San Jose's Arya Global Cuisine is a Middle-Eastern restaurant that features belly dancing, global cuisine, and delicious and exotic Persian and Italian food. The restaurant is the result of Chef Mike Hashemi's love for Persian and Italian food, as well as his love for cooking and serving the people with the best of both worlds. Arya's San Jose banquet rooms are offered for every occasion.
# # #