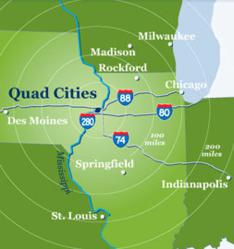 Advanced manufacturing in our state, and particularly in Eastern Iowa, is as strong as ever.
Quad Cities IA/IL (PRWEB) April 03, 2012
Alcoa's $300 million investment in the Quad Cities has been recognized by Trade & Industry Development magazine with a Corporate Investment and Community Impact Award.
Alcoa was a winner in the corporate investment division for its Davenport Works expansion project, which will result in 150 new jobs, the retention of 200 existing jobs as well as 150 temporary construction jobs. The expansion will house a new state-of-the-art heat treatment line and a patented chemical treatment process that Alcoa has developed to improve adhesive bonding for vehicle assemblies.
"The use of aluminum by car makers is going to nearly double in the next 10 years and this is a strategic investment to capture that growth," said Rob Woodall, Alcoa Davenport Works Director of Manufacturing. "Car makers are switching to aluminum to increase fuel efficiency, safety, durability and performance of the cars they produce."
Trade & Industry Development editors evaluated more than 700 applications for the award, with 30 projects being selected as winners.
"This award brings national recognition to the Quad Cities and the region's strength in advanced manufacturing," said Tara Barney, Quad Cities Chamber of Commerce CEO.
The Chamber worked closely with the State of Iowa, the Scott County Board of Supervisors and the Bi-State Regional Commission to secure the project.
"Advanced manufacturing in our state, and particularly in Eastern Iowa, is as strong as ever," said Debi Durham, director of the Iowa Economic Development Authority. "This recognition of Alcoa and their significant investment in the Quad Cities is well-deserved. As a company, they have continued to invest in their Iowa location and have been a great corporate citizen for our state. We are proud to have played a small role, along with our partners at the Quad Cities Chamber, in helping to make this project a reality."
The Quad Cities (pop. 375,000) is located at the crossroads of the Mississippi River and Interstate 80, approximately 2.5 hours directly west of Chicago. The bi-state region is home to John Deere World Headquarters and the Rock Island Arsenal, a major military installation.