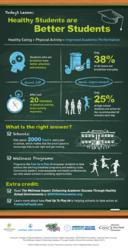 "Fuel Up to Play 60 and the additional program resources available from Midwest Dairy Council should bolster the confidence and the can-do spirit of school wellness councils everywhere." - Dr. John Skretta
St. Paul, Minn. (PRWEB) March 05, 2013
As schools prepare for standardized testing this spring, school leaders, teachers and parents are focused on ensuring students are prepared to do their best. However, research shows that regular access to better nutrition — starting with breakfast — coupled with increased opportunities for physical activity may help students reach their potential throughout the school year, which may lead to better performance at testing time and beyond. Nutrient-rich foods and physical activity are not only good for child health, but also learning. Finding a balance between academic rigor and health and wellness efforts in the school environment has become an increasing priority.
A report issued yesterday, The Wellness Impact: Enhancing Academic Success through Healthy School Environments, reinforces the "learning connection" — the crucial link between quality nutrition, physical activity and academic performance. The report was released by the GENYOUth Foundation, National Dairy Council (NDC), American College of Sports Medicine (ACSM) and the American School Health Association (ASHA).
Findings from The Wellness Impact: Enhancing Academic Success through Healthy School Environments suggest:

More than half (62%) of all teens say they do not eat breakfast every day of the week.
Breakfast eaters have better attention and memory than breakfast skippers.
Three-in-four high school students aren't active for the recommended 60 minutes each day.
Students who were more active during school performed better on standardized tests for reading, math and spelling.
However, despite the report's findings, U.S. schools face tremendous challenges to meet economic, health and academic demands. Many schools lack the funds to execute school wellness policies or to start breakfast programs. And as pressures mount to improve standardized test scores, many districts are shortening or eliminating opportunities for physical activity, such as recess and physical education (PE) classes.
To help overcome these challenges, Midwest Dairy Council, an affiliate of NDC, supports schools in their effort to set up healthy learning environments for students. Specifically, within the last two school years, Midwest Dairy has worked with schools on 42 projects among schools in 10 states to improve school breakfast programs. This represents works in 42 school buildings in 11 different school districts and amounts to an investment of more than $168,000 made by Midwest dairy farmers.
Proven school wellness programs such as Fuel Up to Play 60 — a program founded by NDC and the National Football League (NFL), in collaboration with the U.S. Department of Agriculture (USDA) — encourages students to take charge in making small, everyday changes toward a healthy lifestyle at school. In partnership with GENYOUth Foundation, Fuel Up to Play 60 has provided schools with more than $10 million in grants to help develop healthy in-school initiatives ranging from breakfast programs to walking clubs. Administrators and teachers have shared success stories indicating improved attention spans and increased attendance as a result of participating in Fuel Up to Play 60.
"The challenges of addressing student health in schools are many, and the obstacles are abundant," says Dr. John Skretta, school district superintendent for the Norris District in Firth, Neb. "Fuel Up to Play 60 and the additional program resources available from Midwest Dairy Council should bolster the confidence and the can-do spirit of school wellness councils everywhere."
To read how Fuel Up to Play 60 has made a positive impact in schools in the Midwest, visit: http://www.midwestdairy.com/0t181p190/fuel-up-to-play-60/.
While schools are the focal point in the movement to improve childhood health and wellness, they cannot act alone. The broader community, including business leaders, food and beverage companies, health professionals, community organizers, parents and students can help tackle the status quo by creating and sustaining opportunities for good nutrition and physical activity in schools.
Everyone from community leaders to parents can work together to champion for improved child health and wellness in schools. To read the full report visit GENYOUthFoundation.org and to get involved visit MidwestDairy.com.
###
Midwest Dairy Council®, an affiliate of National Dairy Council, is the nutrition education division of Midwest Dairy Association. The Council is dedicated to dairy nutrition research and education through the investment of more than 9,500 dairy farm families across 10 Midwestern states, and is committed to child health and wellness through our collaborative program, Fuel Up to Play 60. For more information, visit http://www.midwestdairy.com. Follow us on Twitter and find us on Facebook at Midwest Dairy.