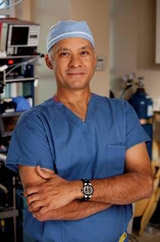 We must separate marketing from real medicine
San Francisco, CA (PRWEB) June 20, 2012
Miguel Delgado, M.D. explains that it would be more accurate to call the procedure "vampire filler" as it is not a facelift plastic surgery procedure and considered more of a temporary fix lasting maybe 1 to 2 years but to date there has not been a national clinical trial to support such a claim.
The procedure involves taking a small amount of a patient's blood and isolating the platelet-rich plasma (PRP) by a centrifuge and then activating it with calcium chloride or thrombin to form a gel like material known as platelet rich fibrin matrix (PRPM) and then using it as injectible filler.
To date, the FDA has not approved the filler for cosmetic purposes, doctors are using it "off label", which means used for another purpose other than what was it was approved for. It has been FDA approved for years for orthopedic doctors for the purpose of tissue repair.
To the chagrin of most plastic surgeons, Miguel Delgado, M.D. included, it would be their preference that the ghoulish term "vampire" not be included for any facial rejuvenation procedure. But the terminology caught and sensationalism abounds. The name draws attention, not dramatic results.
There has been some dispute as to who coined the popular phrase "Vampire Facelift ™", the media or Dr. Runels who trademarked it. Dr. Runels claims that it is the way he does his procedure, not the injectible material that makes up the "Vampire Facelift ™".
Dr. Phil Haeck the recent past president of American Society of Plastic Surgeons, states in a New York Times article dated March 2011, "there are no scientific studies, only personal attestations." He states further, "This is another gimmick that people are using to make themselves stand out on the Internet in a real dog-eat-dog part of medicine."
Miguel Delgado, M.D. states that facial fillers are an acceptable rejuvenation treatment for a temporary fix or until one is ready for a facelift, but fillers cannot replace the superior results of surgery that address more issues such as loose skin and tightening of underlying muscles. His preference for adding volume to the face during surgery is fat injections using a patient's own fat. He has many patients' that have had minimal volume loss even after several years.
Miguel Delgado, M.D. holds the two credentials most coveted by plastic surgeons practicing in the United States, namely certification by the American Board of Plastic Surgery and membership in the American Society of Plastic Surgery. He has his own fully accredited surgery center and two offices located in the Bay Area, San Francisco and Marin. For more information visit http://www.dr-delgado.com or call for a consultation at (415) 898-4161.