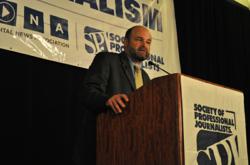 When you think of the advocates over the last 20 years who have made the world a better place for journalism, Mike Hiestand's name belongs right at the head of the list...
Fort Lauderdale, Fla. (PRWEB) September 27, 2012
After more than two decades providing legal help and assistance to student journalists and educators around the country, Houstory Publishing founder Mike Hiestand was this year's recipient of the Society of Professional Journalists' (SPJ) prestigious First Amendment Award on Sept. 22.
He was honored during the President's Installation Banquet at the SPJ Convention & National Journalism Conference in Fort Lauderdale.
Previous award winners have included journalist Daniel Schorr, Senator Patrick Leahy (D-Vt.) and U.S. Supreme Court Justice William Brennan.
During his tenure, Hiestand provided legal assistance to thousands of high school and college journalists while working as an attorney with the nonprofit Student Press Law Center (SPLC). He recently cut back on his full-time duties with the SPLC to devote himself to Houstory Publishing.
Each year, the SPJ Board of Directors and the SPJ Freedom of Information Committee recognize individuals and groups for extraordinary efforts to preserve and strengthen the First Amendment.
Hiestand served as the staff attorney for the SPLC between 1991 and 2003 before moving to Ferndale, Wash., just north of Bellingham, Wash., where he has continued working for the SPLC as a consulting attorney, developing educational materials, teaching workshops and responding to students' calls for assistance.
Hiestand said he was grateful to receive the First Amendment Award.
"The student press has a true friend and partner in the SPJ and I am deeply honored to be recognized for the work the Student Press Law Center and the Society has accomplished on behalf of America's student media over the past two decades," he said. "Being given an award for doing something you love is just frosting on the cake -- but I love frosting!"
Hiestand, who has provided direct legal assistance to more than 14,500 SPLC hotline callers through the years, is also the recent recipient of the National Scholastic Press Association's Pioneer Award and the Louis B. Ingelhart First Amendment Award from the College Media Advisers.
Hiestand has spoken to thousands of high school and college students at national journalism conventions across the U.S. He is the primary author of the SPLC's Law of the Student Press reference book and wrote an ongoing media-law column for the National Scholastic Press Association called "It's The Law." He is a graduate of Marquette University's College of Journalism and Cornell Law School.
"When you think of the advocates over the last 20 years who have made the world a better place for journalism, Mike Hiestand's name belongs right at the head of the list, and it's gratifying to see his role recognized with such a meaningful award," SPLC Executive Director Frank D. LoMonte said. "Because of Mike's efforts, an entire generation has gone out into the world – whether as journalists or just as citizens – better-informed that the law is on their side. The SPJ and Mike Hiestand are two of the best friends that student journalists have ever had, and it's fitting for their names to be enshrined together."
While Hiestand will continue to work with the Student Press Law Center as a speaker and on special assignments as a project attorney, he is now turning much of his attention to something completely different as he and his brother launch Houstory Publishing, a genealogy company that specializes in helping individuals record and share the histories of their homes and family heirlooms.
"I've always felt it is important to stay fresh. While it's hard — and a bit scary — to let go of what has truly been a dream job, an organization like the Student Press Law Center can always benefit from fresh energy. And history has always been another personal passion. When the novel — and I think important — ideas for the Home History Book and the Heirloom Registry presented themselves as clearly as they did, I felt something was calling me to pursue a second chapter in my life."
"And who knows?" he said, "If things take off in years to come I hope the SPLC will be able to count me among its donors in carrying out its vital mission of instilling in our next generation an appreciation and passion for a free and independent press. It's funny how life sometimes works out that way."
About Houstory® Publishing
Houstory Publishing, LLC, is the publisher of the original Home History Book ™ and creator of The Heirloom Registry ™. The company — started in 2007 by brothers Mike and Dan Hiestand — is a leading provider of home genealogy and historical preservation products and information. They are based out of Ferndale, Wash. and Austin, Texas. For more information, visit http://www.houstory.com.
###