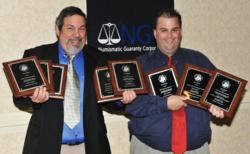 The grand total of the offers by the"Traveling Buyers" equaled $2473, some $37,495 less than their fair Market value provided by a PNG member-dealer. A considerable loss to an unwary consumer.
(Vocus/PRWEB) January 21, 2011
An award-winning rare coin and precious metals dealer who is providing expert assistance for a series of "seller beware" newspaper investigations of gold-buying companies in five states is urging the public to be cautious about some so-called "hotel gold buyers."
Michael Fuljenz, President of Universal Coin & Bullion in Beaumont, Texas and a member of the Professional Numismatists Guild (PNG), says one of the treasure buyers offered only $60 for a rare 1925 U.S. gold coin that was valued at $10,000 by him and other PNG members assisting the news media.
The on-going investigations of several traveling gold buying companies setting up at hotels in Alabama, Georgia, Louisiana, Mississippi and Texas are being conducted by The Examiner newspaper in Beaumont, Texas. Results reported in the stories are not necessarily indicative of all hotel coin buyers across the country. However, based on the buyers tested by the newspaper the stories revealed that "advertised promises of high prices weren't really true, and in many encounters the money offered by some of these traveling roadshows was nearly a fourth or less of the actual value of the items being presented for sale," according to Jerry Jordan, Managing Editor of The Examiner.
Mike Fuljenz and Jerry Jordan won awards from the international Numismatic Literary Guild in connection with their consumer protection work in the investigative series about hotel gold buyers. Jordan continues to field calls and work with other news media throughout the country that are now conducting similar investigations.
Fuljenz provided the newspaper with gold and silver coins valued at more than $43,000 to offer to traveling gold buying companies.
Here are some examples of the items presented to three different companies during the investigation, the offers received and the actual market value of the items according to the participating PNG member-dealers on the same day the offers were made.
One item was a 1954 Proof set which the Traveling Buyers offered five dollars for when its actual market value was $75. Larger discrepancies occurred when coins of the same type but with different grades were introduced to the Traveling Buyers. For example two 1925-D gold $2.50 NGC graded coins received offers of only $60 each, one was a MS 62 with a real market valued of $460 and the other a MS66 worth $10,000 according to dealer Mike Fuljenz . In a similar situation two NGC graded 1909 Gold $5 received identical offers of $250 each from the Traveling Buyers, when their actual value was $1600 for the MS63 and $13,000 for the ms65. In a request for bids on two similar NGC graded $20 Gold Liberties with the same grade, but different years (1904 and 1905) an offer of $900 was recived on each, when in fact their market values respectively were $1,700 and $11,600. A 14k gold chain received an offer of $30 when its real market value was $280. Finally two different silver eagles, one a 2008 proof and the other "8 tail feathers" 1878 proof were presented for offers and they received respectively $10 offer for a coin worth $53 and $8 for a coin worth $1,200. The grand total of the offers by the"Traveling Buyers" equaled $2473, some $37,495 less than their fair Market value provided by a PNG member-dealer. A considerable loss to an unwary consumer.
"In addition to not paying fair market value for rare coins and jewelry, some of the traveling gold buyers refuse to give receipts, and the scales used by some of them to weigh gold jewelry may not have been lawfully registered with government agencies. That could result in inaccurate weight measurements when someone is selling their gold," said Fuljenz.
Jay Sheppard of the Better Business Bureau of Southeast Texas warned, "I consider it a red flag when these companies pay cash and refuse to offer transaction receipts."
"Collectors and other dealers have asked, 'What can we do?,' when traveling buyers come to their town. Now can they tell their communities and local news media about these consumer education stories," he explained.
The award-winning stories are available free on the newspaper's web site, http://www.TheExaminer.com.
# # #