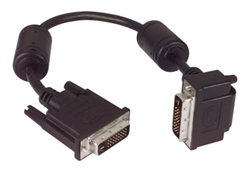 "Our new DVI cables are perfect for high resolution display applications where confined spaces exist or even for use in standard DVI connectivity applications where straight connectors will work," said Mark Hearn, Product Manager
LEWISVILLE, Texas (PRWEB) July 26, 2018
MilesTek, a leading manufacturer and supplier of products designed to address military and avionics applications, announced today that it has released a new series of DVI cable assemblies that feature straight, 45-degree and right-angle connector options.
Perfect for tight fit and confined space DVI applications, MilesTek's angled DVI cables are designed for use in enclosures, cabinets or other confined spaces where standard DVI connectors will not fit.
For applications that require standard, straight DVI connectors, MilesTek now stocks a wide selection of DVI cable assemblies with DVI-D Dual Link, DVI-D Single Link and DVI-I Dual Link connector options to address a myriad of digital video applications.
"Our new DVI cables are perfect for high resolution display applications where confined spaces exist or even for use in standard DVI connectivity applications where straight connectors will work. These DVI cables are built with only the highest quality cable and connecters to ensure flawless video display," said Mark Hearn, Product Manager.
MilesTek's new DVI cable assemblies are in stock and available for immediate shipment.
For more information about this release, please contact:
Peter McNeil
MilesTek
17792 Fitch
Irvine, CA
978-682-6936 x1174
About MilesTek:
MilesTek designs and manufactures a broad range of MIL-STD-1553B and Ethernet connectivity products to address Military Avionics, Aerospace, Industrial and government applications. In addition to a wide selection of off the shelf products, MilesTek can custom manufacture cable assemblies and harnesses. MilesTek is headquartered in Lewisville, Texas and is AS9100C and ISO9001:2008 certified. MilesTek is an Infinite Electronics company.