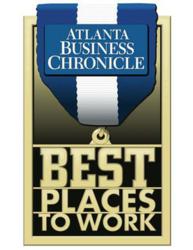 Atlanta, GA (PRWEB) December 05, 2012
The awards for Best Places to Work in Atlanta are based on confidential surveys conducted by Quantum Workplace, an independent workforce assessment and consulting firm. Approximately 30,000 employees within the Atlanta business community were polled regarding the quality of their workplaces. Each respondent was asked to assess and provide feedback on a wide variety of criteria, including compensation, communication, professional development, managerial performance, and overall company culture.
"We are absolutely delighted to have been chosen for this award. We work very hard to provide our team members with a positive, productive, and collegial work environment. This environment is reflected in the quality of the services we provide to our clients and business partners every day," states Anthony Begando, CEO of Military Credentialing Solutions.
MCS' success in this area stems from its commitment to its employees. "Our firm's leaders understand that their primary responsibility is to empower the team members and create an environment where they can reach their highest potential," says Director of Operations Adam Cohen. "This commitment transcends traditional factors that would drive job satisfaction. To excel, a firm must understand its employees and encourage personal success both at work and in their private lives."
Since its founding in 2008, MCS has enjoyed tremendous success and continues to focus on growth and the expansion of its service offerings. Mr. Cohen recognizes that the firm's employees are major contributors to this success, stating, "While many organizations talk about an amazing culture, we analyze the effectiveness of our efforts and monitor the feedback we elicit from the team on an ongoing basis. Attracting, hiring, and retaining excellent employees is a critical component of our growth strategy. We know maintaining and expanding our efforts regarding our corporate culture will continue to support this strategy. We believe this award reinforces our efforts and signifies our commitment to these principles."
~~~
Company/Organization Info: Military Credentialing Solutions (MCS), a pioneer in the healthcare quality assurance industry, provides comprehensive credentialing, privileging, and provider quality management solutions to public and military healthcare organizations and contract clinical staffing firms. An innovator in designing and managing highly efficient operations that tackle the most difficult healthcare quality assurance issues, MCS transforms its clients' operations resulting in improved quality, increased efficiency, and widespread enterprise-level benefits.
Contact Information:
Military Credentialing Solutions
1600 Parkwood Circle S.E., Suite 600
Atlanta, Georgia 30339
Phone: 678.202.5597
Fax: 678.805.4725
Email: ContactMCS(at)militarycredentialing(dot)com
###