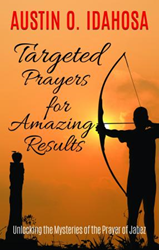 God will fix every broken piece of your life, if you submit it to Him through targeted prayer. With faith, prayer gives amazing results
BROOKLYN PARK, Minn. (PRWEB) October 05, 2018
Within the pages of Austin Idahosa's book, TARGETED PRAYERS for AMAZING RESULTS Unlocking the Mysteries of the Prayer of Jabez ($14.99, paperback, 9781545615645; $7.99, e-book, 9781545616727), readers will find a book about what it means to pray targeted prayers with understanding and determination, thus obtaining amazing results. This book unveils the mysteries behind the prayer of Jabez in 1 Corinthians 4:10 that transformed his life of pain to a life of abundant prosperity.
Christians, and non-Christians alike seek solutions to their problems from man rather than from God, their creator. This book teaches people how to effectively use a powerful spiritual tool, prayer, in a targeted way that will achieve notable and amazing results.
"God will fix every broken piece of your life, if you submit it to Him through targeted prayer. With faith, prayer gives amazing results," said Idahosa.
Prophet Austin Idahosa has served under great men of God in Africa as a pastor in many areas since 2003 before being called by God to establish Recreation Fire and Miracles Ministries in the United States, where he is the General Overseer.