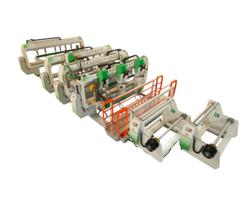 Navarre, Ohio (PRWEB) November 30, 2012
Miller Weldmaster is excited to release the Moduline, a new line within its Autobond Automation series. It is specifically designed for customers who are seeking to improve their production process through automated solutions, thereby delivering greater business profitability. The unique design of this system allows customers to choose from numerous automation choices irrespective of their businesses' production demands.
The Moduline System offers many attractive features which offer product versatility, including: modular frame construction incorporating fabric tension controls; multiple welding gantries for continuous welding; traversing cutters eliminating space constraints. Additionally it features an easily operable PLC touch screen with multiple recipe storage and remote service software for instant servicing and remote production statuses.
Designed to meet customers' automation needs, the Moduline System keeps both production and payback concerns in mind.
About Miller Weldmaster
Miller Weldmaster, the first choice globally of all industrial fabric welding solutions, has offered rotary hot air, hot wedge and impulse welding equipment to the industrial fabric and thermoplastics industries for forty years. For the fabrication and automation of various products from awnings to truck tarpaulins, to flexible air ducting, Miller Weldmaster has developed many of the first advancements in heat sealing technology. The company's historical record of industrial "firsts" demonstrates its ability to research, design and build solutions using the most current and innovative features of the industry. Having sold machines in over 100 nations around the world, and with distributors in 20 countries, Miller Weldmaster Corporation is a leading international manufacturer and provider of solutions for plastic welding machines with a commitment to customer satisfaction. The company is headquartered in Navarre, Ohio, USA.