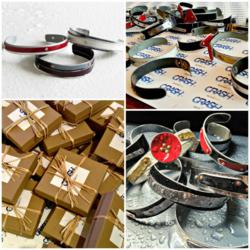 These bracelets are for the style-conscious wearer who appreciates well-designed items, like a Mercedes-Benz or a beautifully crafted piece of jewelry.
Los Angeles, CA (PRWEB) April 16, 2013
Contemporary jewelry artist Christi Schimpke (http://www.minabea.com) will showcase her eco-friendly jewelry collection "Crash by Minabea" in Earth Day Holiday Celebrity Swag Bags.Christi has impressed her Southern California clientele with how fashionable upcycled jewelry can be and is now taking the message to prominent Hollywood personalities selected for their support of Earth Day, including Hayden Panettiere, Edward Norton, Emily VanCamp and many others.
Inside the gift bags, which will be delivered in time for Earth Day on April 22, celebrities will find, among other "green" goodies, an assortment of unisex "Crash by Minabea" bracelets.
Schimpke created the "Crash by Minabea" bracelets using salvage from late model luxury Mercedes-Benz automobiles that were in accidents. "To make these upcycled bracelets, we cut larger pieces of the vehicle, such as car hoods, doors and fenders, into smaller pieces and then smaller from there," said Schimpke. "We bend and shape these into the appropriate forms and then add gemstones and hammered metals as accents. Sometimes, we rivet organically shaped pieces from a different colored Mercedes onto the bracelet for decorative effect."
Schimpke notes that the metal on hand dictates the color of the piece and that all paint is the original Mercedes-Benz high quality. To avoid heat damage to the paint, only cold connections, like rivets, are used.
For the gift bags, Schimpke designed and handcrafted 30 one-of-a-kind bracelets, nestling each in earth friendly, recycled packaging before shipping them off to The Artisan Group. She is confident the bracelets will be well-received.
"The recipients of this gift bag are the perfect audience for 'Crash by Minabea'," remarked Schimpke. "The unisex bracelets they are receiving will appeal to those concerned about the environment and who feel strongly about re-purposing materials. I designed them for the style-conscious wearer who is not afraid to be different or edgy and who appreciates well-designed items, such as a Mercedes-Benz or a beautifully crafted piece of jewelry."
"Crash by Minabea" will be showcased at the Greystone Mansion Concours d'Elegance at the Greystone Mansion in Beverly Hills on May 5, 2013 where Schimpke will be introducing the line to car enthusiasts. It is available to view and purchase at the Daren Kirk Accessories Showroom at the California Mart in downtown Los Angeles, along with the new 18k gold plated "Every Day by Minabea" line.
To learn more about "Crash by Minabea," visit the website and become a fan on Facebook (Minabea) and Twitter (@minabea). Press interested in touring Schimpke's studio as well as retailers interested in carrying the Minabea lines can contact Christi Schimpke at (310) 415-6064. A Minabea Look Book is also available. For press inquiries about The Artisan Group, visit theartisangroup.org.
About Minabea Jewelry
Minabea Jewelry (http://www.minabea.com) is owned by jewelry designer and former art historian Christi Schimpke. Founded in 2010, the company specializes in hand-fabricated, one-of-a-kind and custom jewelry created with sterling and fine silver, gold and fair-trade semi-precious gemstones. Minabea is a proud member of The Artisan Group, an exclusive, by invitation only group of artisans who collectively provide their handcrafted products to celebrities at Hollywood's elite award show gift lounges.