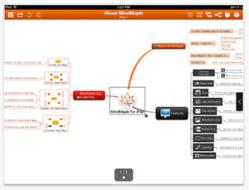 With document sharing via Google Drive and DropBox Integration, online collaboration has never been easier for the mind mapping community!
Santa Clara, CA (PRWEB) March 19, 2013
MindMaple Inc., the Silicon Valley based mind mapping software company, have officially launched their latest app for the iPad community. This product has been specifically developed to help bridge the gap between PC users and the ever growing iPad market.
MindMaple for iPad is a fast and intuitive way of organizing and prioritizing information. The education sector has found MindMaple products to be particularly useful as software for teachers, allowing them to create and organize their lesson plans. Students benefit by using it for lecture notes, idea sharing and problem solving. Those in the business world use it to manage their busy schedules, for brainstorming sessions, project management and more. The newest feature gives users the ability to create and edit collaborative mind maps, with a user-friendly interface and additional features to assist in maximizing productivity and efficiency.
You can download their mind mapping software by visiting their website or downloading directly from iTunes.
MindMaple Inc. have also created an online guide that provides step-by-step instructions on how to utilize their real-time collaboration feature. Users can access this guide by visiting their MindMaple for iPad Help section on their website.
About MindMaple Inc.
MindMaple is a mind mapping software product developed by MindMaple Inc.
MindMaple was designed to be a versatile tool for project management, brainstorming, managing schedules, creating visual presentations, sharing ideas, and other purposes. It can be used as a business, education, or personal tool.
Mind mapping software is designed to help individuals organize ideas and concepts by representing them as visual topics and subtopics related by lines or arrows. MindMaple uses a "drawing interface" designed to be more intuitive than the interfaces of other mind mapping software products. MindMaple was designed with a variety of users in mind, "from business professionals to students."
Users can follow them on https://www.facebook.com/MindMaple and stay up to date with the evolution of their PC, iOS and soon to be released Mac OS X versions of MindMaple. A spokeswoman for the company said their full OS X product should be available before the end of the second quarter this year.
Additional information, comments or questions should be directed to support(at)mindmaple(dot)com.