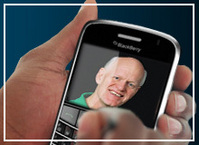 MindLeaders has always prided itself as first-to-market where emerging 'delivery technology' is concerned
Dublin, OH and Washington, DC (PRWEB) August 25, 2008
MindLeaders and Chalk Media Corp. (TSXV: CKM) have announced that they are offering a collection of 90 video-rich courses that can be securely pushed out to Research in Motion's popular BlackBerry® devices and tracked through Chalk's mobile content deployment system, Mobile chalkboard™.
The courses are presented by some of the most prominent thought leaders in their respective fields, including Tom Peters, Dr. Marshall Goldsmith, Ken Blanchard and Bob Rosner.
"Today, most of us rely on our BlackBerry devices as much, if not more, than we rely on our laptops", adds Paul MacCartney, President of MindLeaders. "As such, BlackBerry® is a fantastic platform for the mobile delivery of our professional development courses. Our partnership with Chalk on this initiative is leading edge and one of a kind."
"MindLeaders has always prided itself as first-to-market where emerging 'delivery technology' is concerned," says Philip Payne, Director of Marketing, "Back in the 1990s, we were first movers to the internet. We made a huge commitment to that new space and our customers were the winners. Now, thanks to our partnering with Chalk, leaders and managers who thrive in a fast-paced, mobile environment are about to win, yet again. Keep looking for more great things from us."
"This initial offering from the Chalk / MindLeaders partnership tackles the most pressing issues in corporate America today and will help companies engage and develop their leaders and managers while fostering productivity", said Stewart Walchli, President & CEO, Chalk.
About MindLeaders:
MindLeaders is an employee and individual performance-improvement company with 27 years of experience in the technology-based, self-paced training field. The Company's e-learning products include over 2,200 courses, complete online reference library, personal learning advisor, centralized administration/ reporting and online helpdesk, all, accessible, 24/7, via the internet. MindLeaders differentiates itself by offering easily implemented, sustainable learning solutions to its clients. The Company provides unrivaled service at a price point that consistently results in positive and meaningful Returns-on-Investment for its clients. MindLeaders is a wholly-owned subsidiary of ThirdForce Plc, headquartered in Dublin, Ireland. Additional information is available at http://www.mindleaders.com.
About Chalk Media Corp.:
Chalk's mobile content deployment system, Mobile chalkboard™, allows multimedia content to be created, securely pushed and tracked on BlackBerry® smartphones. Our software and content help organizations communicate with their employees, business partners and customers. Additional information is available at http://www.chalk.com.
The TSX Venture Exchange has not reviewed the contents of this release and is not responsible for its accuracy.
For more information, please contact:
MindLeaders
John McCann
Manager, Marketing Communications
Tel: 800.223.3732
Email: jmccann@mindleaders.com
Chalk Media Corp.
Kris Sutherland
Executive Vice President
Tel: 604.453.4424
Email: kris@chalk.com
###