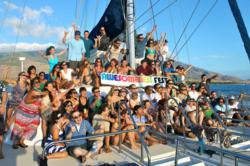 The winning applicant will spend their time travelling between Malaysia and the US, meeting personal growth industry's most respected names and encouraging them to use Awesomeness Fest as a platform to spread enlightened ideas to a larger community.
(PRWEB) March 30, 2012
Not content with being one of the world's fastest growing new media publishing companies, Mindvalley is also dedicated to redefining and reshaping the concept of work by advertising a vacancy for the "World's Most Awesome Job". With the world on the bring of a global economic collapse this begs the question: how is it possible?
CEO and Founder, Vishen Lahkiani, explains that he has built up Mindvalley upon a singular mission of inspiring 500 million people by the year 2050 with a view to encouraging discourse on topics which influence and impact humanity on an individual and collective basis. As part and parcel of this purpose, Mindvalley brought together opinion leaders and change-makers from across the globe at a non-for-profit event, Awesomeness Fest, in order to empower and arm them with new ideas and fresh connections to return to, and share with, their communities.
Of course, encouraging such development would be nugatory if Mindvalley did not employ the same approach within its HQ. Powered by a team of 80 people from 28 different countries,working together from one unique location, Vishen confides that the team "chose to live their lives in Flow. Set big bold goals, but enjoy the journey. Refuse to tie happiness to goals to make it possible to live life in the moment and express gratitude for the little things that make them happy."
The result? A happier, more productive workplace and its not just Mindvalley which says so, for the past 5-years this forward-thinking company has won WorldBlu's award for World's Most Democratic Workplace.
Looking forward, eyes are set on the next step that Mindvalley takes to serve the world and, as far as Vishen is concerned, that step is clearly mapped in the Awesomeness Fest movement.
Opening the position for Event Director of Awesomeness Fest, coined as The World's Most Awesome Job, Mindvalley is calling for a visionary, dreamer or even a rock star to co-ordinate the ultimate transformational event for people who are driven to changing the world. The job requires an applicant who is willing to grow, meet amazing people, contribute to the planet and live between the US and Malaysia.
Famous speakers at Awesomeness Fest include: Chip Conley, Founder of JDV hotels (California's largest boutique hotel chain), Best-selling Authors Lisa Nichols and Arielle Ford, MBA Professor Srikumar Rao and award winning creator of 'Avenue Q' Jeff Marx.
From now until 5th of April, interested candidates are urged to send a copy of their resume to Mindvalley along with a 3 minute YouTube video declaring why they are the most suitable candidate to lead Awesomeness Fest.
Mindvalley is currently the world's fastest growing new age media publishing company and is headquartered in Kuala Lumpur, Malaysia. CEO and Founder, Vishen Lakhiani, created the company with a vision to touch 500 million people by the year 2050 – with Awesomeness Fest being one of the many platforms they have created to achieve this goal.
If you want to know more about this job and how to apply, watch this video!
http://www.worldsmostawesomejob.com/