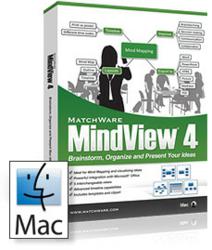 MindView 4 Mac provides the professional feature set to drive productivity through seamless integration...that ensures brainstorming, organizing and presenting ideas has never been easier.
Tampa, FL (PRWEB) October 20, 2011
Today MatchWare (http://www.matchware.com) announces the release of MindView 4 Mac, a professional mind mapping software ideal for optimizing brainstorming sessions, creating visually driven presentations and displaying project plans in an easy-to-overview timeline. Thomas Henriksen, MatchWare's Product Manager, explains, "Our user feedback was very clear, Mac customers want a professional mind mapping tool to visually overview ideas and improve communication, collaboration and innovation. MindView 4 Mac provides the professional feature set to drive productivity through seamless integration with Microsoft Office and a cutting-edge presentation mode that ensures brainstorming, organizing and presenting ideas has never been easier."
The enhanced Microsoft Office integration and ready-to-use templates enable users to effortlessly export their mind maps as professionally formatted Microsoft® Word documents and PowerPoint presentations. With 7 dynamic viewing options including a timeline, new map styles, and innovative presentation options, MindView 4 Mac continues to take mind mapping to the next level. Additional new features include a new formatting toolbar, the ability to record audio commentary as a sound note and attach the file to a mind map branch, open MindView 4 for PC files and the option to export a mind map as a PDF.
MindView 4 Mac's new presentation mode displays information one branch at a time, enabling users to deliver dynamic, interactive presentations directly from the mind map. Focus mode empowers users to zoom-in on specific areas of the map, allowing participants a clear view of the specific information presented. MindView 4 Mac enables users to customize the placement of branch pictures; further enhancing the capability to provide clear, visual displays to improve the understanding of complex topics.
"I have tested MindView 4 Mac on OS X Lion and the new Presentation Mode and Focus Mode are extremely helpful when presenting my mind maps during meetings. I like the fact that the Focus Mode lets me zoom in automatically on branches in a non-linear way so people in the back of the room easily can see and contribute to brainstorming sessions," says Frans Merrild, C.E.O of Tell-It Online.
MindView's unique Timeline view delivers a powerful, visual overview to improve any project planning process and enhance the study of historical and future events. By adding dates or times to the mind map branches, users can simply switch to the Timeline view to instantly display information on a horizontal time axis.
MindView 4 dramatically improves the ability of professionals to capture and share information in one click from a mind map to Microsoft Office, a timeline, a PDF document or a HTML website. Mac users now have a professional productivity tool for turning ideas into action plans.
MindView 4 Mac is available for purchase at http://www.MatchWare.com and the Mac App Store for the upgrade price of 149 USD or 249 USD for a single user license. For more information about MindView, visit http://www.MatchWare.com or follow us on Twitter and Facebook. Contact us for multi-user and educational discounts.
About MindView
MatchWare MindView is professional mind mapping software that allows you to optimize brainstorming sessions and present ideas visually. MindView's mind mapping capabilities provide an effective way to organize and develop ideas, outline reports, and streamline decision making. MindView's visual hierarchy and professionally designed export templates convert your mind map into a polished presentation with the click of a mouse. Brainstorm topics, storyboard presentations and enhance meeting discussions. Attach pictures and videos, take notes or add hyperlinks – everything will be included in your export.
About MatchWare
Founded in 1992, MatchWare is a leader in intuitive Mind Mapping and multimedia authoring tools for enhancing individuals' ability to create, visualize, manage and distribute information. The company's award-winning software packages, MindView, Mediator, and ScreenCorder, offer highly intuitive user interfaces and powerful features at affordable prices. Headquartered in Denmark, MatchWare has subsidiaries in the UK, the USA, Germany, France and Sweden.

MatchWare, MindView, MatchWare Mediator, MatchWare ScreenCorder are trademarks or registered trademarks of MatchWare A/S. All other trademarks and registered trademarks used in this document are the property of their respective companies.
###