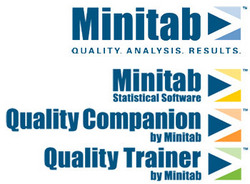 Minitab's software is used by the most successful Six Sigma companies, and this award makes it easier for government agencies to adopt the same tools and solutions
State College, Pa. (Vocus) February 14, 2008
Minitab Inc. , the leading provider of software and services for quality improvement, today announced it has received a five-year information technology schedule contract from the U.S. General Services Administration (GSA).
The award, contract number GS-35F-0144U, allows Minitab to provide products and services to government agencies as an approved vendor and expedites the process of obtaining government contracts.
"Minitab's software is used by the most successful Six Sigma companies, and this award makes it easier for government agencies to adopt the same tools and solutions," says Christopher Paret, senior business development coordinator for Minitab Inc.
"We're looking forward to building mutually beneficial business relationships with more federal agencies and helping them achieve the same levels of quality our commercial customers enjoy," he says.
The GSA extensively evaluated Minitab's organizational structure, past performance, customer satisfaction, and other factors to qualify the firm for the award of this contract.
Many agencies already use Minitab's products, Paret notes, including the Army, Navy, Marines, and Air Force, and the U.S. Geological Survey, the Census Bureau, and the Postal Service.
Minitab's products bring to the GSA schedule new solutions for quality improvement, data analysis, Lean, and Six Sigma at a time when agencies in all branches of the federal government are implementing such initiatives.
Minitab's software products include Minitab Statistical Software, Quality Companion by Minitab, and Quality Trainer by Minitab. The GSA contract also includes Minitab's training services.
Minitab Statistical Software is the leading software used to implement Six Sigma worldwide. Thousands of successful companies, including 3M, Caterpillar, Honeywell, Bank of America and the leading Six Sigma consultants, use Minitab to improve their businesses and achieve world-class quality.
Quality Companion is a separate software package that makes Six Sigma projects easier to organize, standardize, and execute. It enables team members to centralize and share project data, get guidance from Coaches, map processes and assign variables, standardize project deliverables, and more.
Quality Trainer is an e-learning service that provides online instruction in analyzing data for quality improvement. Interactive lessons walk users through real-world problems and make advanced statistical concepts easy to grasp and retain.
The U.S. Congress established the GSA to improve government efficiency by providing purchasing and requisition assistance to federal agencies. TurboGSA, a national firm that helps companies obtain GSA Schedules, assisted Minitab Inc. in securing its GSA contract.
About Minitab Inc.
Minitab Inc. is one of the world's leading developers of statistical analysis and process improvement software for academic and commercial users.
Minitab Statistical Software is the preferred package for businesses of all sizes and is used in more than 80 countries by thousands of distinguished companies, including 3M, Honeywell International, Wachovia, DuPont, and leading Six Sigma consultants. It has been used to implement virtually every major Six Sigma quality improvement initiative, and to teach statistics in over 4,000 colleges and universities worldwide.
Quality Companion by Minitab is the package professionals use to plan and execute Six Sigma projects in companies around the world, including Xerox, ITT Industries, Providence Health System, Nissan North America, and LexisNexis.
Minitab Inc., headquartered in State College, Pa., operates offices in the United Kingdom, France, and Australia, and has additional representatives throughout the world. For more information, visit http://www.minitab.com
FOR MORE INFORMATION or materials, including screen shots, product packaging images and logos, and other graphics, contact Eston Martz in Minitab media relations: PublicRelations @ minitab.com
# # #