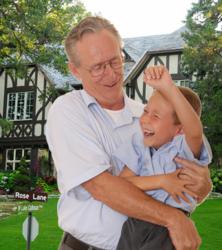 Increased housing problems –The most significant issue by far is housing cost burden, which has been steadily increasing over time." `National Institute of Health
Minneapolis, Minnesota (PRWEB) November 13, 2012
Today's older Americans enjoy longer lives and better physical fitness over previous generations. However some Twin Cities seniors face an increased burden in senior housing costs which may negate these gains, according to a comprehensive federal look at aging.
According to the Older Americans 2012: Key Indicators Of Well-Being Report, housing accounted for the largest share, one-third or more on average, of total expenditures for all groups of households with an owner or renter age 55 or over. "The share was largest (36 percent) for households with a reference personage 75 and over, even though this group was the most likely to own a home without a mortgage."
Home Destination's owner Jenna Thuening says, "The report comes at a time when our nation is at a pivotal point of loosing critical housing tax credits that affect many of our seniors. Unless Congress acts quickly to fix an important technical issue, the lack of of affordable housing could leave some seniors feeling hand-cuffed and left without suitable housing arrangements".
The Low Income Housing Tax Credit (LIHTC) is the United States' largest rental housing production program and has been responsible for the creation of 42,735 affordable housing units in Minnesota since 1986," according to a statement last week from the Minnesota Housing Partnership.
A new initiative between Minnesota and the federal Department of Health and Human Services to help Minnesotans plan for future long-term care needs. It is called" Own Your Future." Planning is vital to compete today as single-family homes for seniors are being snapped up quickly in Minneapolis are markets.
Minnesota's Lieutenant Governor Yvonne Prettner Solon and other state officials launched Minnesota's "Own Your Future" initiative. Governor Mark Dayton and Lieutenant Governor Yvonne Prettner Solon are urging all Minnesotans age 40 to 65 to "Own Your Future" by planning for their personal housing needs as they age. It is filled with urges for seniors to plan - with their existing families - what affordable housing plan they will need to rely on. "Too many seniors falsely believe they can simply rely on Medicare," says Lt Governor Solon.
Pursuant to Minnesota Statutes 144A.33, the Minnesota Board on Aging (MBA) receives a $5 surcharge on each licensed nursing home and boarding care home bed. These funds must be granted to a statewide, independent, nonprofit, consumer-sponsored agency to educate and inform resident and family councils about:

care in the nursing home or board and care home
resident rights and responsibilities
laws and rules that apply to homes and residents
resident and family self-help methods to increase quality of care and quality of life in a nursing home or board and care home.
The Federal Interagency Forum on Aging-Related Statistics recently reported that in 2009, there were notable differences in the use of hospice services at the end of life. "We are seeing more use of hospice, the preferred choice of many seniors to is to spend their last days in the comfort of their own home, living alongside loved ones," says Thuening.
Seniors are making more use of hospice according to statistics in the National Institute on Aging's Fall report, consisting of the latest data available. The report breaks down the use of hospice in this manner:
The percentage of older people who received hospice care in the last 30 days of life increased from 19 percent in 1999 to 43 percent in 2009.
The percentage of older Americans who died in hospitals dropped from 49 percent in 1999 to 32 percent in 2009.
The percentage who died at home increased from 15 percent in 1999 to 24 percent in 2009.
Through www;eldercare.gov older adults and their loved ones can get connected with information on local aging resources that offer assistance for aging in place, enabling older adults to continue living independently in their homes and communities.
Contact Home Destination at 612-396-7832 if you are a senior looking to buy a home in the Minneapolis / St Paul Metro areas. Minneapolis is awarded for a top place to live for senior wishing to downsize to a condo or affordable apartment near shopping and downtown activities.